Makati Shangri-La, Manila's premier Cantonese restaurant, Shang Palace invites diners to savor the distinct flavors of abalone and lobsters in a promotion entitled A Royal Feast from February 10 to 28, 2014.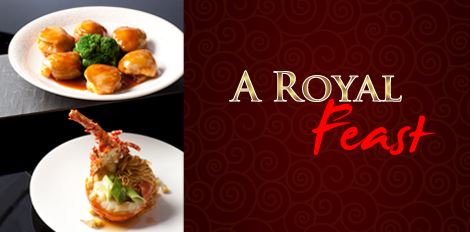 Abalone, known as Bao Yu in Chinese, is considered to be a royal ingredient served only during special occasions. It is also believed to bring good fortune and wealth. Executive Chinese Chef Richard Thong of Shang Palace will prepare dishes with this rare ingredient such as Braised Abalone in Clay Pot with Diced Chicken and Bean Curd, Braised Live Abalone in Clay Pot with Ginger and Garlic or Asparagus Roll with Abalone and Shrimp Paste, to name a few.
Guests may also choose to indulge in lobster dishes, such as Braised Lobster with Hong Kong Noodles, Wok-fried Lobster with Salted Egg Yolk and Almond Flakes, and Wok-fried Minced Lobster.
A Royal Feastis available for lunch and dinner. Experience exceptional dishes in Makati City only at Shang Palace, known for its authentic Cantonese cuisine. Shang Palace's fancy interiors with glittering crystal chandeliers and intricate wooden latticework on the walls create an enchanting ambience that is unique to this restaurant.
Guests may enjoy memorable celebrations with family and friends in any of the 11 private dining rooms, a spacious main dining area and intimate booths. Shang Palaceis open daily for lunch at 11:30 a.m. to 2:30 p.m. and dinner at 6:30 to 10:30 p.m.
For more information or to book a table, please call restaurant reservations at (63 2) 813 8888, email rric.slm@shangri-la.com, or book online at www.bit.ly/ShangPalace8.
In the social media channels, Makati Shangri-La Manila is on Facebook /MakatiShangrila, Twitter @MakatiShangriLa and Instagram @MakatiShangriLa.