Transformative Materials Reconfigure
Space and Perception
 On View Through September 7
Curator Elizabeth Cerejido Leads a Conversation with the Artist July 23 at 7:00 p.m.
Brazilian artist Laura Vinci makes her American solo exhibition debut at ArtCenter/South Florida with Untitled (from the series Papèis Avulsos, "Loose Papers") at the  Richard Shack Gallery through September 7. She is known as a sculptor, interdisciplinary artist, draughtswoman and engraver.The installations were designed specifically for ArtCenter's space, and are described as poetic and lyrical yet grounded with compelling tensions in the practical and the mechanical.
Vinci's public installations have been exhibited across Europe, Australia, Brazil and throughout Latin America. Her work has been featured twice at Art Basel Miami Beach.
A new book about the artist has recently been published by APC/Cosac Naify, which according to the publisher celebrates Vinci's works which often deploy ephemeral materials.A conversation with the artist, led by the exhibition's curator Elizabeth Cerejido, happens Wednesday, July 23 at 7:00 p.m. at 800 Lincoln Road. Additional support for this exhibition has been provided by the Consulate General of Brazil in Miami, Centro Cultural Brasil-USA and the Brazilian Film Festival of Miami.
Hallmarks of Vinci's work are changes of state, passages, transitions and metamorphoses of elements. The artist is renowned for subverting materials away from what they are normally known to represent. For her exhibition at ArtCenter, Vinci's installations work together as an organic whole, similar to a body.
The concept of chaos generated the idea for Papèis Avulsos.For Vinci, chaos evokes a positive meaning, as the start of something new, an engine that sparks change. "There is a feeling of forces and energies moving all of us," said Vinci, "the work itself breathes with latent pulsations."
"There is a sense of imminence, a looming presence of events that await us all: an ever-present combustible element," adds Vinci.
The artworks for Vinci's Miami Beach exhibition are meant to read as one narrative – a melding of architecture, space, light and materiality –
via four installations:
One installation utilizes dozens of white sheets of Japanese cotton paper, liltingly suspended from the ceiling with wires and pulleys. The gentle, vertical gliding of the floating papers seems undermined by the motor and cables that pull and release their movements.The papers seem to breathe in the air surrounding them, flirting with passersby on Lincoln Road through ArtCenter's curved windows.
(photo by Lujan Candria)
The sheets of paper are devoid of text – by removing words from the pages, Vinci metaphorically deconstructs content from literary texts.She first conceived this installation while working as a set designer on a Chekhov play in São Paulo, from a scene where the author spews paper all over the room using an electric fan fastened to his body.
The chaos and arbitrariness of the Chekhov scene are carefully re-enacted throughout this exhibition.
Another installation features the word "chaos" in white marble letters, juxtaposed and loosely scrambled across the walls. The weight of the marble subverts the careless arrangement of the letters.
Hourglasses affixed to the facing wall are filled with industrial sand from Brazil. In the window spaces facing Meridian Avenue, single pieces of the white paper are whimsically held aloft by fans facing up from the floor. The simple effect contrasts the frenetic distractions on the other side of the glass.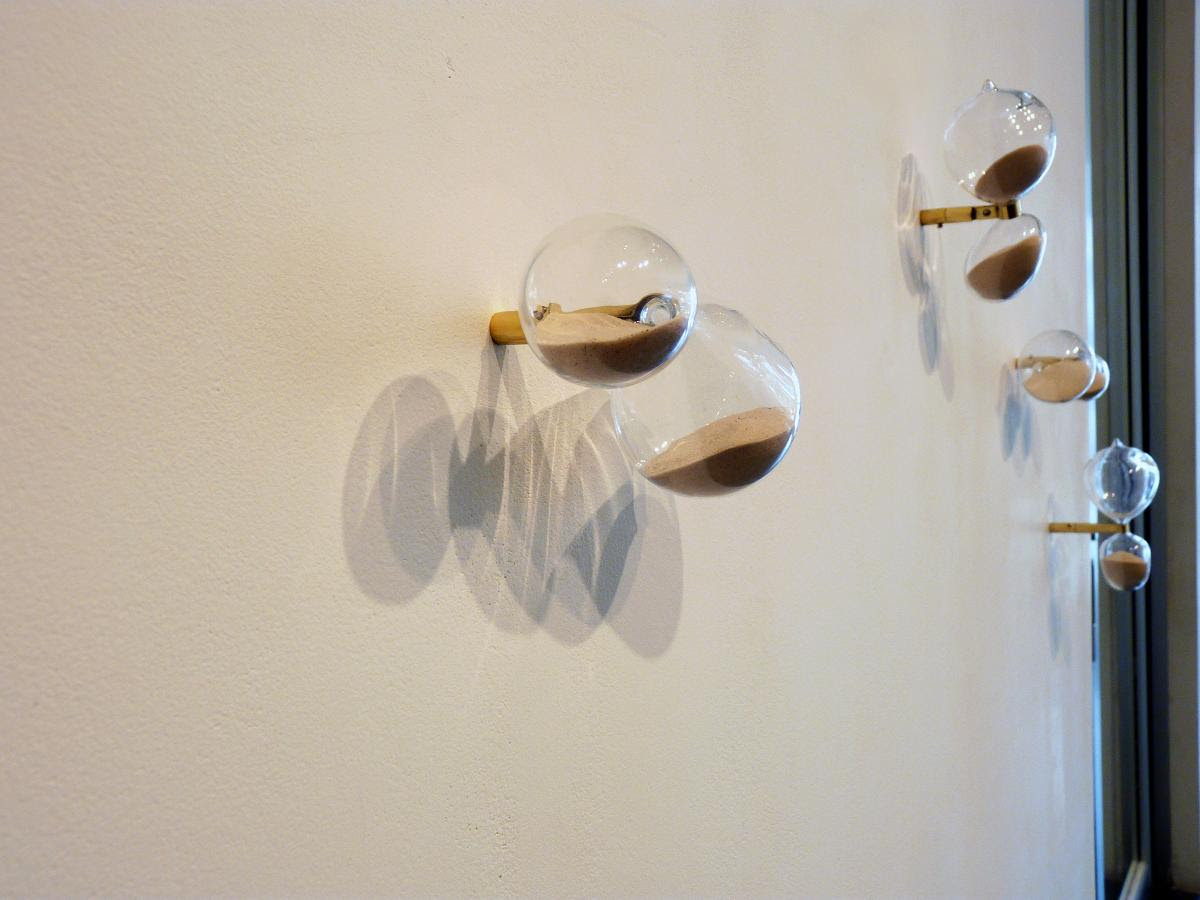 (photo by Lujan Candria)
Born in São Paulo, Vinci continues to live and work in the city of her birth.  She began her career as a painter in the 80s but her work evolved into sculpture and installation during the 90s. Gradually, she has transitioned into producing larger scale works due to her fascination for interacting with space in precise and incisive manners. Sometimes her transformations of these materials is scientific or well-known (like water freezing into ice), while at other times, Vinci's transitions are unexpected and mystical (like the decomposition of marble into an ethereal dust).Historically, the innovative use of materials has been paramount in Brazilian modern art.Curator Elizabeth Cerejido learned of Vinci's work while at a curatorial residency in São Paulo.  Her research aimed to study the pioneering role women artists have historically played in Brazilian vanguard movements since the early 20th century.
(photo by Lujan Candria)
"Brazilian artists, particularly women like Lygia Clark or Lygia Pape, have taken the ideas of constructivism and other related concrete movements and put heart, body and soul into them," said Cerejido. "They played an enormous role in bringing modern art to Brazil."At the Conversation with the Artist on July 23, Cerejido will engage with artist Laura Vinci and discuss her previous projects and her interest in space, architecture and materiality.