New 'Exceptional Experiences Across Asia' Volume II Coming Soon
The second edition in our exceptional experience series will soon be available for our partners – supplying them with an enticing range of travel options throughout each of our 11 destinations. An essential tool for any travel professional, our new leisure brochure has been designed to inspire and educate on travel options with products focused around four enticing themes; Family, The Arts, Spiritual and Highlights. Each program has been designed to capture the imagination of travelers, immersing them in cultural sights and activities, connecting them to the destination on a deep and meaningful level.
Learn how to; connect clients with the people of Asia; introduce them to the region's exotic and creative arts; reveal its kindred spiritual nature and amaze them with a selection of highlights that create holidays of a lifetime.
'Exceptional Experiences Across Asia' Volume II will be available soon – we will send full details on its launch in the coming weeks!
Hong Kong Dragon Boat Carnival Celebrations
The ancient Chinese tradition of Dragon Boat racing has grown into one of Hong Kong's greatest spectacles, with the Hong Kong Dragon Boat Carnival attracting hundreds of thousands of guests to the stunning Victoria Harbour every year. Celebrated this year on the 20th June, the event will see top dragon boat athletes compete in the international races as live entertainment adds an air of excitement and celebration among the jubilant crowds.
The race dates back to the 3rd century and has gained legendary status worldwide for its energetic and colorful dragon boat races, accompanied by the beat of the drum down to the finish line. Visitors to Hong Kong over this period can not only experience the international party atmosphere on June 20th, but also explore the areas surrounding Victoria Harbour with Destination Asia Hong Kong to learn more about this fascinating world city and its unique cultural heritage.
e: hongkong@destination-asia.com
Moroccan Style Resort Opens in Siem Reap
Destination Asia Cambodia can now offer visitors to Siem Reap a lavish, Moroccan-inspired boutique resort that exudes an exotic charm. Its ornate design flows throughout every room, with ambient lighting, floor to ceiling glass windows and textured walls creating a distinct east meets west cultural melting pot. The resort is 7 kilometers from Angkor Wat temples, just a 15-minute drive away from Siem Reap International Airport and a few minutes walking distance to the town center and Old Market.
The resort has 48 rooms and suites with each offering pool views, private mezzanine floor living rooms and separate living areas. It is also home to one of Siem Reap's hottest new dining venues, the Goat Tree Garden Restaurant – serving Southeast Asian cuisine inspired by the beautiful landscapes within easy reach of the hotel.
e: cambodia@destination-asia.com
Change to Ghibli Museum Ticketing System
The Ghibili Museum is a portal to a storybook world with the visitor assuming the role of main character. Tickets are usually in advance with a specified appointed date – however for the peak months of July and August this year, a lottery system will be in place. For July tickets we will need to apply between 25 and 31 May. The results will be out in the second week of June. For August tickets we will need to apply between 25 and 30 June, with the results out in the second week of July.
Only when the results are released shall we know if it's possible to purchase tickets. The lottery-type draw is random so there is no guarantee we can secure them. Additionally, the lottery tickets do not allow us to adjust the date or time of a ticket. From September 2015 the ticketing process will resume normal operations – with tickets confirmed on the 10th day of the previous month and more readily available.
Lee Kong Chian Natural History Museum
Working in conjunction with the National University of Singapore, the newly opened Lee Kong Chian Natural History Museum offers visitors the chance to explore a seven-storey green building covering 8,500 square metres of space, home to over 560,000 prehistoric catalogued lots and over a million specimens from throughout the region. The main gallery consists of 15 zones, tracing the history of life on earth. Different sections are devoted to the origin of life and all major branches of the Tree of Life.
Located at the Kent Ridge campus of the National University of Singapore, the museum is Singapore's first and only permanent natural history exhibition. Tickets are not available for purchase on the door, only through a ticketing agent with a specified time slot allocated. The validity is for 90 minutes with six sessions per day, starting at 10am and ending at 5:30pm.
e: singapore@destination-asia.com
Vientiane Center Opens Doors For Business
Following a series of delays in its construction, the capital of Laos, Vientiene, recently celebrated the opening of the Vientiane Centre – a multi-purpose leisure destination on a scale the country has never seen before. The center is a joint venture between Laos and China at a cost of USD120 million and is located in the city's North Nongchan district, offering travelers another option during their days spent in the capital city.
Built on a site covering 53,000 square meters, the center presents visitors with designer label stores, a cinema, five-star hotel, luxury apartments, office space and superb meeting facilities. Surrounding the center are green areas for visitors and nearby residents to relax within, offering walkways around a large lake and areas of mixed planting. Many investors will be closely watching the success of this first-of-a-kind project in Laos, and if found to be profitable we can expect more to follow.
Mae Hong Son is the Ideal Escape Destination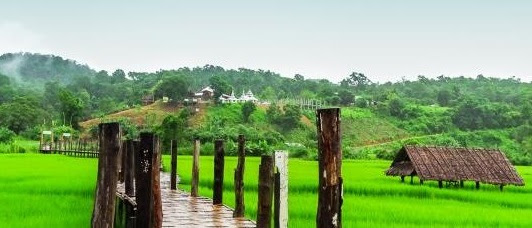 Mae Hong Son in Northern Thailand is an 'escape to' destination, hemmed in by the high mountain ranges of the Shan Hills to form Thailand's most mountainous province. For those with an in-depth knowledge of Thailand, it is known as a place that offers unparalleled peace and quiet among breathtaking panoramic landscapes. Lovingly referred to as the 'Land Below The Mist', it stirs emotive images that travelers must see for themselves.
Covered in a wispy mist for much of the year owing to its rugged terrain, Mae Hong Son is also home to the charming Zutongpae Bridge, a wooden walkway that spans emerald green rice paddies and is a pathway of good fortune according to local belief. Farmers from nearby villages believe that crossing the bridge will bring success into their lives. Travelers can also visit and discover the daily endeavors of the Thai Yai people who reside along the northern border with Burma.
e: thailand@destination-asia.com
Revealing a Hidden Side of Saigon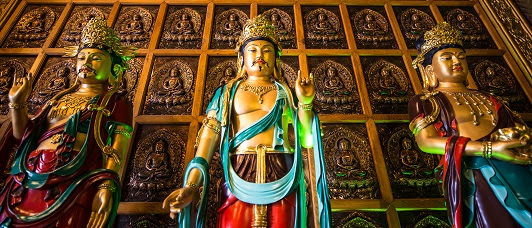 Destination Asia Vietnam has created a morning exploration taking guests over Khanh Hoi bridge toward District 4 for a different view of Saigon's daily life – highlighting the contrast between two neighboring areas. Navigating small alleyways and side streets, guests are exposed to daily life Vietnamese style. After visiting Xom Chieu market and a tiny pagoda, we then make our way toward Tan Thuan bridge and district 7 and walk along Te channel to witness a unique scene – a collection of boats docked along the bank selling of fruits grown in farms from the Mekong Delta. The boats are not only a means of transportation, but are the homes of their owners.
Travelling deeper into the center of district 7, we discover the Phu My Hung community, a Garden City with numerous parks and green spaces to explore. Walking along the streets of Phu My Hung guests experience a very different side of Saigon – the exuberant life of this new city. At midday we make our way downtown, stopping en-route to enjoy a refreshing drink at a local coffee shop.
e: vietnam@destination-asia.com
Luxury Marco Polo Property Opens in Chengdu
Niccolo by Marco Polo recently opened Niccolo Chengdu – its first ever Ultratravel Collection Property in China. The hotel is located within the International Finance Square Shopping Mall in Central Chengdu, just 25 minutes by car from Chengdu Shuangliu International Airport and is easily accessible by subway. The hotel presents travelers with luxurious guestrooms and suites with design-led interiors featuring natural textiles in muted tones.
For event planners there is a ballroom on the 7th floor and 'The Conservatory', a breathtaking oval glass venue surrounded by the Sculpture Garden on the 8th floor, providing dramatic backdrops for custom-designed banquets, weddings, corporate events and meetings. The largest function room delivers a space of 750 square meters, accommodating up to 1000 delegates. The hotel is excellently placed for business travelers while leisure guests gain from easy access to the city's wide selection of entertainment options and those beyond.
Private Balloon Safari Over Inle and Pindaya
The Shan state is one of Myanmar's most beautiful and culturally diverse areas. Our exclusive balloon safari takes guests to the most stunning sites of Inle Lake and Pindaya in a style and manner reminiscent of the great days of luxury travel. Sight-seeing by balloon is a truly remarkable experience, allowing you to venture off the beaten path and gain a unique perspective of the country and its people. We fly along the mountain valley, passing tiny Shan hamlets and hill top pagodas occasionally swooping down to the delight of villagers who have never seen a hot air balloon before.
Clients fly both mornings on this two day experience, the first taking them over Pindaya while the second soars high above Inle Lake, each followed by a delicious breakfast prepared close to the landing site. During the day we enjoy activities such as a local cooking experience and lunch at an Intha house. Accommodation for the night is at Ta Mae Monastery with luxury bedding provided for added comfort.
e: myanmar@destination-asia.com
Stunning Kudat Is Setting For Sunset Music Fest
The Sunset Music Fest is set to take place from 5-6 June 2015 in Kudat on the northernmost tip of Borneo. Visitors can expect classical favorites and contemporary music as the sun sets on one of Asia's most spectacular locations, delivering breathtaking views of a rugged, unspoiled coastline.
The district of Kudat is also known for its unique longhouses, coconut plantations and cottage industries famous for the production of honey and gongs, and percussion instruments often used for cultural events and important occasions. Destination Asia Malaysia can arrange an in-depth discovery of the surrounding area and its many cultural qualities with two nights spent in Kudat to enjoy this jubilant music festival. The Sunset Music Fest is a unique outdoor musical experience with local food, beverages and handicraft stalls open to visit from 10am to 9pm each day. Music performances commence at 5pm.
e: malaysia@destination-asia.com
Increased Flight Connections to Indonesia
To meet a growing interest in the wonders of Indonesia and customer demand, Qatar Airways has recently announced that it will increase services between the Middle East and Indonesia. Its commitment to growing the Indonesian market sees enhanced flight schedules to both Jakarta and Denpasar (Bali) from the pioneering Hamad International Airport.
The increased flight frequencies to Jakarta and Denpasar will commence from 5 July and 16 July respectively. This will take the total number of weekly flights to the capital city to 21 (three times a day); with a twice daily operation to Denpasar. Emirates Airlines also announced the start of a new daily flight to Bali from June. The flights will provide a useful connection for leisure and business passengers travelling from Europe and the Americas.
e: indonesia@destination-asia.com