Destination Asia were awarded the prominent 'Best Event Entertainment' award at the recent Asia Pacific MICE Awards 2015 in Singapore. The awards recognize excellence within the events industry, acknowledging those who play a defining role in supporting, growing and moving the industry forward.
The 'Best Event Entertainment' award was presented to Destination Asia Vietnam for a recent event that showed their capability to deliver under the most pressing circumstances, overcoming a challenging location and numerous adversities to execute an excellent gala dinner and evening among the rice fields of Danang in Vietnam. The Destination Asia Vietnam team created a private village community within a local rice plantation, literally transporting guests back to a world where the rice harvest was (and still is) considered the event of the year for local inhabitants.
Oriental Ballooning Rise Above Ngapali
Oriental Ballooning are a distinguished ballooning company based in Burma who already offer spectacular flights over Bagan, Mandalay, Oindaya and Inle Lake – and now Ngapali. For the first time ever, guests can climb aboard a hot air balloon and float over an unspoiled coastline in the Bay of Bengal, drifting above untouched jungle and rolling hills. The area's incredible diversity allow glimpses of bustling markets with friendly villagers, golden temples and graceful pagodas. A winding river meanders through the old colonial town of Thandwe in a picture of absolute serenity.
This is an exceptional opportunity for travelers to experience Burma from a new perspective and will greatly enhance any vacation to The Golden Land.
e: myanmar@destination-asia.com
Escape to Gubei Water Town from Beijing
Gubei Water Town is located at the foot of the Great Wall in Simatai Village, Miyun County and is just one and a half hours from Beijing Capital International Airport, or 120 kilometers from downtown Beijing. Though the town itself is quite new, the style is evocative of the ancient culture of Northern China, with charming cobblestone streets, half-moon bridges over narrow waterways, beautiful gardens and surrounding mountains making it the perfect day or overnight escape from the capital.
Destination Asia China can organize a memorable hot air balloon ride from Miyu airport, allowing your clients to view Gubei Water Town in its entirety from above, including parts of the Great Wall at Simatai. Flights can be 10 or 20 minutes duration. To add an element of luxury, we can also arrange a helicopter transfer from downtown Beijing to Simatai. A cable car takes guests part of the way up the mountain toward the Great Wall, on a section where there are spectacular views and far less tourists.
Total Solar Eclipse 2016 Cruise in Indonesia
Destination Asia Indonesia are now offering a 'Total Solar Eclipse 2016 Cruise'! We are pleased to be able to make the most of this unique phenomenon and offer your clients the rare chance to view the eclipse at one of the best locations in the world. A total solar eclipse occurs when the moon appears to entirely block the rays of the sun when viewed from earth, plunging day into total darkness. The 2016 Total Solar Eclipse will occur in Indonesia on 9th March 2016, at precisely 08:58:19am West Indonesia Time.
Join us for this exciting adventure from one of the very best view points – on board a cruise vessel. Namaste Cruise is offering a dedicated Solar Eclipse Cruise from 5-12 March 2016 and will anchor in the middle of the Halmahera Sea during the eclipse. The super-luxurious Lamima Cruise offers a special Solar Eclipse Cruise in Raja Ampat from 1-15 March 2016.
e: indonesia@destination-asia.com
Local Life of Hoi An Explored on a Vespa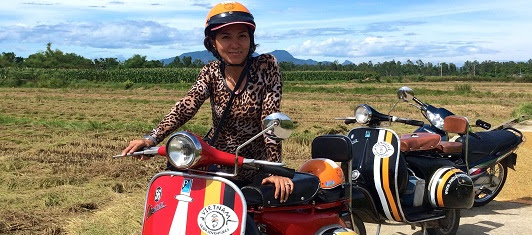 In a bid to explore the road less travelled and provide a unique perspective of Hoi An, we are now offering a journey by Italian Vespa along quaint paths and hidden back streets. Guests set off from Café Zoom in Hoi An, before boarding a local river ferry when we head into the morning melee of Cam Kim island's fishing port. Stops are made at an Ancestral House and a traditional boat builder's yard before we explore the sleepy island villages.
Zig-zag through breathtaking scenery of rice paddies and farmland, taking stops along the way to learn from friendly local families the art of mat weaving, farming and how to make (and eat) the perfect Banh Dap (rice cracker). Meeting local families is a must-do to see the real way of life in Vietnam. A delicious seafood lunch is served on the beach, breaking up the day before we continue our island exploration.
e: vietnam@destination-asia.com
Photo Marathon Captures the Best of Cambodia
Join a photography race through the Cambodian countryside that is supported by one of the world's largest camera manufacturers. The Photo Marathon is back and will take place in Cambodia on 4th October, starting at 7am at Koh Pich. For two hours the contestants must explore the city and capture some winning shots of whatever catches their eye. Anyone can take part and it is a great way to discover this beautiful country as each contestant tries to seize the culture and landscape in a frame.
18 winners will each walk away with a Cannon DSLR camera and the opportunity to join the Angkor Photo Festival in Siem Reap where a regional winner is then selected. This international event joins people of all nationalities who share two passions, travel and photography. The competition also takes place in; Indonesia, Malaysia, Singapore, Vietnam, India, Thailand, Cambodia, Hong Kong, Taiwan and Brunei.
e: cambodia@destination-asia.com
The Freedom of Exploring Japan by Motorbike
Explore Central Japan in style with the freedom to stop when and where you please. Traveling on a motorbike opens a world of possibilities – whether exploring the country independently or in a group. This can be achieved by simply renting a bike on its own, or with additional assistance – including the option of a luggage truck for larger groups (up to 10 bikes), that can carry any extras.
Our bike pickup point is in central Tokyo, with one bike equipped with an English GPS and a route pre-loaded into it (so guests don't have to worry about getting lost). Each bike is also provided with a card that automatically pays road toll fees, so there is no need to stop at the booths along the way (the balance must be paid by you when you drop off your bike). Our route forays into some of the country's most exquisite landscapes, from Mt. Akagi and the Shirane Mountains to preserved ancient villages such as Shirakawago. In quaint hot spring towns we find time to reflect on our journey and relax with a delicious kaiseki dinner and onsen baths.
The Kings of Thailand Tower Over Hua Hin
Hua Hin continues to develop as a tourism center close to Bangkok, offering more and more attractions for visitors to this royal town. The latest development is certainly worth a visit and is guaranteed to impress any traveler. Ratchaphakdi Museum Park recently opened where guests can view the megalithic statues of the 'Kings' of Thailand, each weighing approximately 30 tons, standing 13.9 meters tall and 6 meters wide.
The models represent the nine Kings of Thailand from the Sukhothai to Rattanakosin periods. The park, located in an area nearby to Klai Kangwon Palace is intended to demonstrate the Thai people's loyalty to the royal institution. The park will also function as a venue for civic occasions as well as a place for those wanting to learn more about Thailand's history. An informative museum and exhibition center are located under the statues.
e: thailand@destination-asia.com
TREC set to Revolutionize Kuala Lumpur Nightlife
A new entertainment district complete with restaurants, vibrant nightclubs, aromatic coffee houses and rooftop bars is on the rise in Kula Lumpur. TREC as it is known (stands for Taste, Relish, Experience and Celebrate), will complement TRX, the new financial park. The new social zone will offer a night out for all tastes, with a built-up space of 60,000 square foot, comprising five clubs and a VIP lounge bar amongst other attractions.  The one-stop entertainment area will offer an array of options that has made the likes of Hong Kong's Lan Kwai Fong and Singapore's Clarke Quay so popular.
Covering a total area of seven acres, TREC has been designed to offer five distinct zones that present the visitor with an eclectic mix of fine dining, friendly cafes, clubs and lounges, attracting both local and international patrons.
e: malaysia@destination-asia.com
Container Port Tour Provides New Perspective
At Destination Asia Hong Kong we endeavor to unearth the most experiential encounters, present new ways to explore Hong Kong and always push novel ideas to their limits. For many, a Container Port Tour is a new concept – and one we are delighted to present. Taking visitors off the normal touristy path, this tour reveals the size of operation and logistics involved behind keeping one of the world's most busy ports operational. We board a boat to get up-close views of the mega-sized container ships as our guide relays some staggering facts and figures.
We then motor up the Rambler Channel and under the magnificent Lantau bridges to Park Island (Ma Wan). Here we take a short stroll through the old, abandoned fishing village to get a glimpse of life as it used to be, before enjoying a BBQ lunch on board Jungle Jane.
e: hongkong@destination-asia.com
3 Nagas Luang Prabang Under Renovation
The 3 Nagas is a charming boutique hotel located in Luang Prabang and is currently under renovation. The hotel has remained open but Destination Asia Laos do not recommend placing clients in the hotel as there is much work taking place in and around the premises. The work is scheduled to finish by the end of October 2015, when the rooms and suites will be newly categorized, with 12 deluxe rooms (including two units with twin-beds) and three executive suites. Every room will receive a renovated living space and bathroom.
The 4-star hotel consists of three restored historical houses that possess an enchanting colonial atmosphere, complimented by modern highlights. It is within easy walking distance of the temples and night market where most of the restaurants are located.
Singapore/Bintan Ultimate Golfing Experience
Few golf courses impress as much as those in Singapore; designed to test a golfer to their limits while playing in one of the world's most desirable locations. Serapong course on Sentosa has everything a golfer could wish for, and when combined with dinner at Clifford Pier – creates the ideal weekend getaway.
We suggest pairing Singapore with Bintan to create the ultimate golfing escape. Using the regular ferry service which takes just 55 minutes to reach Bintan Island, guests are presented with some exceptional activities to partake in on arrival. One of Asia's best-established and leading golf courses, the 'Ria Bintan Golf Club', can be found here. This 27-hole championship course was designed by world-celebrated golfing legend, Gary Player. It is the first in Indonesia to achieve the highly-acclaimed Audubon International Classic Sanctuary Program certification for its leadership, commitment and high standards towards environmental management.
e: singapore@destination-asia.com