The Berlin Marriott Hotel and The Ritz-Carlton, Berlin celebrated 10 years with a spectacular joint anniversary celebration showcasing the best of their hotels at Potsdamer Platz.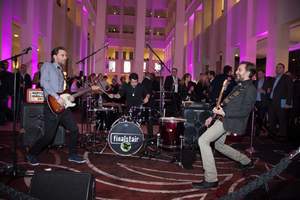 The festive party drew about 500 guests to the upscale hotels in Berlin. The celebration started with a reception at The Ritz-Carlton, Berlin before guests walked a few steps down a red carpet to the adjacent Berlin Marriott Hotel, which was atmospherically lit with torches. Here, the guests were treated to a varied program of festivities including a fashion show by designer Karsten Fischer, live music and a dance party with DJ Tomekk. The celebration was also the perfect time to unveil a new cocktail, created by Arnd Heißen, bar manager at The Curtain Club at The Ritz-Carlton, Berlin. The drink called BC10 features gin, sake and orange, and can be ordered at the bars of both hotels.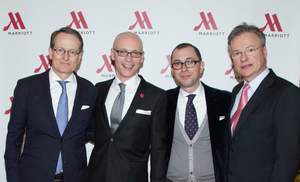 The 10th anniversary goes beyond just the two hotels near Berlin Brandenburg Gate; the date is also shared with the Beisheim Center at Potsdamer Platz, whose anniversary commemorates a moment in the history of the city reaching beyond the confines of Berlin. After the city's reunification, the square developed gradually over many years, and the opening of the Beisheim Center in January 2004 filled the last vacant lot in the famous hub, marking the completion of the Potsdamer Platz. Known around the world as the largest and most visited construction site in Europe, the Potsdamer Platz is marked by the two striking towers of the Beisheim Center, which separately house the Berlin Marriott Hotel and The Ritz-Carlton, Berlin.
"It is impossible to imagine Berlin city life without the Berlin Marriott Hotel and The Ritz-Carlton, Berlin within the Beisheim Center," Hugo Trütsch, chairman of Center's real estate ownership company IMMAGO AG, says.
"We have made a name for ourselves among both Berliners and international guests," Hansjoerg Schneider, general director of the Berlin Marriott Hotel, says. "Our guests love the central location of our property, which gives them the feeling of being right in the middle of things yet offers complete tranquility at Inge-Beisheim-Platz directly behind the Potsdamer Platz. We were able to extensively modernize our hotel in the last 2 years and increase the comfort for our guests even further thanks to an excellent and professional partnership with the owners of the Beisheim Center."