Miroslav Forejtek, General Manager of the Park Inn Hotel Prague (Czech Republic), has been named Best General Manager (midscale category) at the Worldwide Hospitality Awards 2013.
He received the prestigious award during a gala night in Paris yesterday evening. Miroslav led the opening of the Park Inn Hotel Prague during 2009, one of the most difficult business years, and has established the stylish mid-market property as the leading hotel in Prague in its category. Park Inn is a young and dynamic mid-market brand operated by the Carlson Rezidor Hotel Group, one of the world's ten largest hotel groups.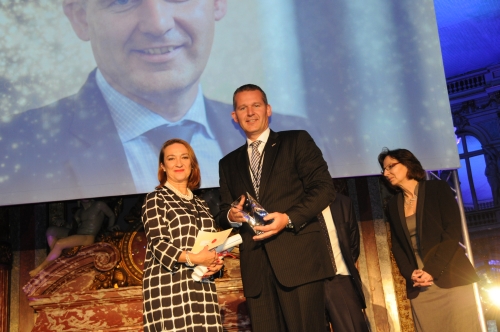 "We are very proud of Miroslav and congratulate him to this fantastic achievement. He is a leader whose ultimate task is to drive revenue, ensure 100% guest satisfaction for our clients, and to build a true team spirit among his staff members – according to our unique service philosophy Yes I Can!", said Wolfgang M. Neumann, President & CEO of Rezidor.
Miroslav is a seasoned manager and hotelier at heart with more than 25 years of experience. He focuses not only on the operations of his hotel – but sees the bigger picture and actively promotes Prague as a world destination for travel and tourism. For his outstanding contributions, he was recognised by Prague City Hall and selected into Prague's Mayor Tourism Advisory Board. His strong network also includes relationships to key players such as Czech Airlines and the Czech embassies in Germany, the UK and the United States.
The Worldwide Hospitality Awards, now in their 14th year, were created by Georges Panayotis, President & Chief Executive Officer, MKG Group, as an international competition and opportunity for hotel groups to highlight their exemplary achievements. They belong to the most prestigious achievements within the global travel industry.
– See more at: http://investor.rezidor.com/phoenix.zhtml?c=205430&p=RssLanding&cat=news&id=1876340#sthash.jVIkDWar.dpuf