Brazilian model and actress Daiana Menezes and comedian Amazing Peanut (Edward Vallespin in real life) had an enjoyable experience at Traders Hotel, Dubai.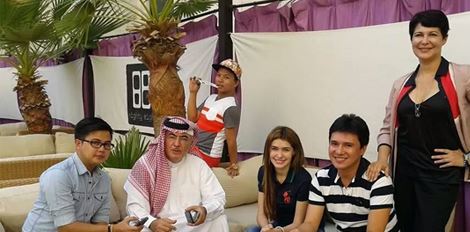 Both celebrities verbally extended their appreciation for the good food, peaceful ambiance and cheerful staff at the hotel when they dined at The Junction Restaurant and 88 Ultra Lounge.
Menezes and Peanut, accompanied by Kabayan Weekly PR and Event Manager Rayhman Luckmann, together with the events team of Icon Productions, relished in the exquisite lunch buffet at The Junction Restaurant and thereafter lounged in the sun while sipping refreshments at 88 Ultra Lounge. The group of 10 spent the afternoon dining, chatting, and taking photos.
When interviewed by Kabayan Weekly news writer RJ Hontiveros about her overall experience, Menezes expressed her delight with Traders Hotel, Dubai as it is quiet, not crowded and clean – qualities she definitely likes. She also complimented the wide variety of food offered. Amongst the selections, she particularly loved the kibbeh and biryani. Furthermore, the model conveyed that the staff were exceptionally warm and welcoming, and that she would certainly recommend the hotel.
Daiana Menezes is a top-notch Brazilian model, film actress, singer, dancer, comedienne, and former television host of the longest-running Philippine noon-time variety show "Eat Bulaga!".
Amazing Peanut is a stand-up comedian, singer and impersonator regularly performing at various comedy bars. Both Philippine-based entertainers came to the United Arab Emirates to perform a series of shows entitled "Beauty and the Best – A Comical Explosion" in three Emirates primarily catering to the Filipino community from 9 to 11 October 2014.
The Junction offers international multi-cuisine fare that come in generous portions at reasonable prices in buffet-style or a la carte dining. Its multi-functional eating space provides an atmosphere and setting that is both relaxed and appealing. Signature dishes start at Dh28, a lavish buffet is priced at Dh85 and the complete gastronomic experience – from appetizers to desserts and drinks with preferred choices – start at Dh90. The a la carte menu includes Asian flavours, Arabic favourites, Indian specialties, authentic gourmet pizzas, pastas, burgers and sandwiches, healthy meals, vegetarian options, salads and a host of heavenly desserts.
Meanwhile, 88 Ultra Lounge provides a chic outdoor chill-out venue that serves refreshments and shisha under the Arabian night sky. 88 Ultra Lounge sports an Arabic theme with various seating arrangements combining a comforting, yet up-market design, a signature bar and ambient music that give it a pleasant and tranquil milieu.
http://www.shangri-la.com/uploadedImages/Traders_Hotels/Dubai,_Traders/press-rooms/brazilian%20model%20and%20filipino%20comedian%20experience%20delightful%20dining%20at%20traders.jpg?width=470&height=232&mode=crop&quality=80