Carlson Rezidor, one of the world's largest and most dynamic hotel groups and the leading international hotel operator in Russia/CIS & Baltics, has opened the Radisson Blu Hotel, Chelyabinsk.
The upper upscale property added 211 rooms to Carlson Rezidor's portfolio in the region which now comprises 51 hotels and more than 13,300 rooms in operation.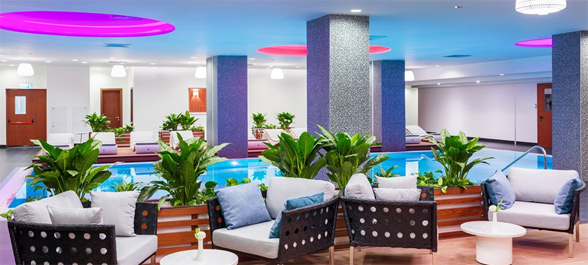 "The Radisson Blu is a stylish new addition to the hospitality market in Chelyabinsk. Conveniently situated in the city's business district, it represents a sophisticated and contemporary retreat. Our professional team lives our service ethos "Yes I Can!" and is determined to make the stay of every guest truly unforgettable", said Benjamin Eichner, General Manager of the Radisson Blu Hotel, Chelyabinsk.
The Radisson Blu Hotel, Chelyabinsk enjoys an outstanding location in the city center; surrounded by the Gagarin City Park. Designed by the Swedish designer Christian Lundwall, the 211 hotel rooms are themed "Ocean", "Urban" and "New York Mansion". All rooms offer signature Radisson Blu services including free high-speed internet, individual air conditioning systems and LCD flat-screen televisions.
The Radisson Blu Hotel, Chelyabinsk is the perfect place for MICE organizers to benefit from the innovative "Experience Meetings" concept for small or large events in 7 meeting rooms and 1 ballroom of 578 sqm that can host up to 650 delegates. All meeting rooms offer free high-speed internet access, modern video and sound systems, and individual air conditioning.
The real hot-spot for guests and locals is a Paulaner Brauhaus restaurant serving traditional Bavarian cuisine in the stylish surroundings of a classical Munich ale house. The hotel also features a cosy ChiChi cocktail bar in the lobby.
Leaving the day behind will not be difficult when working out at the PACE fitness center or discovering the luxurious relaxation at the Organica Day Spa, which includes a 15m swimming pool, a heated Jacuzzi, and views of the hotel's winter garden.
Chelyabinsk, situated between the Ural Mountains and Siberia, is a business and industrial center – and at the same time a great leisure destination: Hiking, skating, horse riding and paintball are only some of the getaway activities offered.