CeBit is considered a important trade show to showcase the art in information technology. The first step to a successful export business in Europe is exhibiting at the industrial and service trade fairs that dominate the multinational climate.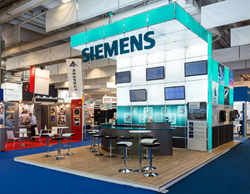 US companies that export are up to forty percent more profitable than those that do not export. Over seventy percent of the world's purchasing power is outside of the US. As the most international of all of the IT expositions in the world, it is time to think about entering the broader scope of international business. Absolute Exhibits will handle the entire exhibition process across Europe at all-inclusive discounted rates for expositions through March 31, 2015.
It is becoming more and more important to have a global presence, and CeBit is a great open door. Absolute Exhibits has a list of key European shows by industry for prospective clients to consider. Working with a US-based Absolute Exhibits account executive in your native language and at local hours relieves much of the stress of exhibiting overseas. Absolute Exhibits has in-house exhibit designers based both in the USA and Europe, as well as a fabrication association in Europe that will meet customers' needs on every level on the European show floor.
The Absolute Exhibits' European team is multilingual and travels with our clients to each show. Absolute Exhibits offers innovative trade show display solutions while remaining budget conscious. The hallmark of working with Absolute Exhibits is beyond compare, and that holds true with our European counterparts. Current monetary exchange rates are quite favorable, and the reception for American services and products are in high demand outside US borders. A partnership with Absolute Exhibits Europe will make your first time exhibition a rewarding experience.