Destination Halifax, the dedicated tourism marketing organization of the Halifax Regional Municipality, has launched a redesign of destinationhalifax.com.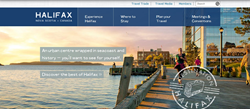 The new, responsive website was created to help position Halifax as the premiere business & leisure destination in Atlantic Canada. It can be easily accessed on all computers and mobile devices, features a contemporary design and changes to the site-wide navigation to help visitors find information faster.
Highlights of the new site include the addition of a Family Fun section dedicated to family-friendly activities and attractions, more detailed and easily searchable supplier listings, and a larger focus on vivid imagery capturing Halifax as the quintessential east coast destination.
"The new website is designed to show potential visitors the diverse experiences you can have in the Halifax region," said Patricia Lyall, President & CEO, Destination Halifax. "Whether you're a leisure or business traveller, event planner, conference delegate, cruise passenger or a member of the travel trade, you will be able to navigate the site with ease and find offerings that resonate with you."
The new website was planned and developed by Destination Halifax and web marketing agency ISL with assistance from brand advertising agency Chester + Co. To see the new site, visit destinationhalifax.com.
Destination Halifax is a partnership of the Province of Nova Scotia, the Halifax Regional Municipality, the Hotel Association of Nova Scotia and participating industry members. Since its inception in 2002, Destination Halifax has operated with a goal of promoting the Halifax Regional Municipality as a year-round destination of choice for business and leisure travelers.