Double Cross Vodka has partnered with Four Seasons to bring guests and local patrons truly remarkable culinary and cocktail experiences.
The program includes a unique branded Four Seasons Food Truck, celebrity-hosted tasting dinners and monthly tastings featuring signature Double Cross cocktails and tasty food samples.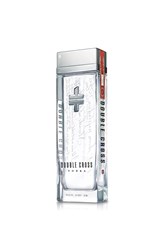 "As a leader in the ultra-premium vodka segment, we seek to partner with other best-in-class brands," said Double Cross CEO and Founder Dr. Malcolm M. Lloyd. "Four Seasons is known world-wide for their incredible guest experiences and beautiful properties. We are honored to partner with them on these projects."
The Food Truck hit the road this fall and toured eight destinations, traveling more than 1,000 miles across New Mexico, Arizona and California. Culinary and mixology teams from Four Seasons properties along the way created special menus and cocktails like the Double Ruby, The Duplicity and the Hibiscus Julip (recipes listed below) reflecting the locale.
"We are constantly seeking out innovative experiences for our guests and local patrons to enjoy," said Christopher B. Hunsberger, Executive Vice President, Global Product and Innovation. "By partnering with Double Cross Vodka, we are finding new ways to deliver on quality and fun and to express the intrinsic value in our respective brands."
The celebrity dinner concept kicked off late this summer at Four Seasons Hotel Denver with an evening hosted by LPGA star Cristie Kerr. The night included signature Double Cross cocktails and a full tasting dinner. Also started this summer was a series of martini nights at the Bristol Lounge in Four Seasons Hotel Boston. The first included a collaboration between Four Seasons Chef Brooke Vosika and Double Cross Culinary Ambassador Chef Ming Tsai. Each month, two new Double Cross cocktails are created by the talented Bristol bar staff and are served at a sampling night and then featured for the month on their cocktail menu.
About Double Cross Vodka
Double Cross Vodka is small-batch distilled in the Tatra Mountains of Slovakia. Seven-times distilled and seven-times filtered, each batch is made with estate-grown winter wheat and pure mountain spring water drawn from aquifers located 200 feet below ground level. It received a rare 95-point rating from Wine Enthusiast and was the first vodka to ever win gold medals for both taste and bottle design at the World Spirits Competition. In 2012 Double Cross received a prestigious "Rising Star" award from the Beverage Information Group.
Double Cross Vodka is available throughout the United States and in Ontario, Canada. You can find the brand in more than 5,000 locations including these national chains in the U.S.: Waldorf Astoria Hotels and Resorts, Omni Hotels & Resorts, Loews Hotels & Resorts, Mastro's Steakhouse, The Palm, Morton's The Steakhouse, Fleming's Prime Steakhouse & Wine Bar, David Burke restaurants, Scarpetta, Hakkasan and The Disney properties. In the U.S. it retails for $39.99 for a 750 ml bottle, and contains 40 percent alcohol by volume. Double Cross Vodka is the flagship brand of Old Nassau Imports (ONI). Learn more at http://www.doublecrossvodka.com.