With family and friends expected to gather together for the coming Easter season, Shangri-La Hotel, Kuala Lumpur's Lemon Garden Café and Lemon Garden 2Go has prepared a round of food, activities and fun for the occasion.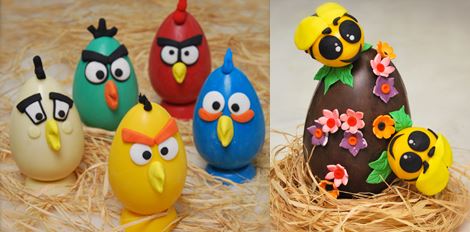 From 7 April to 20 April, Lemon Garden 2Go will have a line of Easter goodies specially lined up. The Easter Bunny, Easter Duck, Twin Chocolate Eggs, Chocolate Egg with Minion, Dark Rabbit and White Rabbit, and many more Easter confections will be made available for purchase. Also available will be the Hot Cross Buns and Easter Cakes.
From 12 April to 20 April, an egg-painting competition will be held at the Lemon Garden Café. Children are invited to participate and the winners will be announced and presented with a grand prize on 20 April at the Lemon Garden Café Easter Sunday Buffet Brunch. The Brunch is priced at MYR130++ per adult and MYR65++ per child.
On Easter Sunday, children will also be able to join in an Easter Egg Hunt held in the gardens of Shangri-La Hotel, Kuala Lumpur. As an incentive for the hunt, a range of prizes have been prepared for the eager young participants.
Adding to the merriment, Shangri-La Hotel Kuala Lumpur has also scheduled for the Easter Bunny to make an appearance handing out chocolate eggs to guests and children alongside a clown whose balloon shaping is meant to awe and fascinate. Sand art and face painting activities will also be run on the same day.
For any enquiries or reservations, please contact our Restaurant Reservations on (6 03) 2074 3900 or email restaurantreservations.slkl@shangri-la.com.
Hong Kong-based Shangri-La Hotels and Resorts currently owns and/or manages more than 80 hotels under the Shangri-La brand with a room inventory of over 34,000. Shangri-La hotels are five-star deluxe properties featuring extensive luxury facilities and services. Shangri-La hotels are located in Australia, Canada, mainland China, Fiji, France, Hong Kong, India, Indonesia, Japan, Malaysia, Maldives, Philippines, Singapore, Sultanate of Oman, Taiwan, Thailand, Turkey and the United Arab Emirates. The group has a substantial development pipeline with upcoming projects in mainland China, India, Mongolia, Myanmar, Philippines, Qatar, Sri Lanka and United Kingdom. For more information and reservations, please contact a travel professional or access the website at 
www.shangri-la.com
.