Paul Strachan recalls "I first went up the Le Myo river to visit the monuments of Mrauk U in 1986 and they were so amazed to see a foreigner they asked me to sign the visitor's book.
I returned in 1993 and was asked to sign the visitor's book once again on the same page as seven years before. The monuments apart this was one of the best river journeys I ever made and nothing could get you closer to the people and their very different culture here."
Not many pages in the vistors book have been turned since then, as Mrauk-U has been impossibly difficult to get to and accommodation challenging. You can only go by river and there is little accommodation available so offering a Pandaw expedition makes a lot of sense.
Mrauk-U is a temple city that once was capital of an important kingdom that served as a buffer between India and Burma. In the eighteenth century it was absorbed by conquest into the Burmese Empire and its most powerful Buddha carried across the mountains to be enshrined in the Mahamuni temple of Mandalay. Mrauk-U was described by missionaries and was a cosmopolitan center of high culture. The king surrounded himself with Japanese samurai bodyguards and Portugese mercenaries provided him with artillery. Maurice Collis's Land of the Great Image, encapsulates this period greater than any other work.
Today there is an enormous amount to see with several important temples as art historically important as the other great Buddhist sites in South East Asia, ranking alongside Pagan, Angkor or Borobadur in importance. Of great interest are the sculpture galleries in the Shitthaung temple, carved in a Guptan Indian style and visual evidence of this extraordinary culture that stood at a geographical cross roads between South-East Asia and South Asia.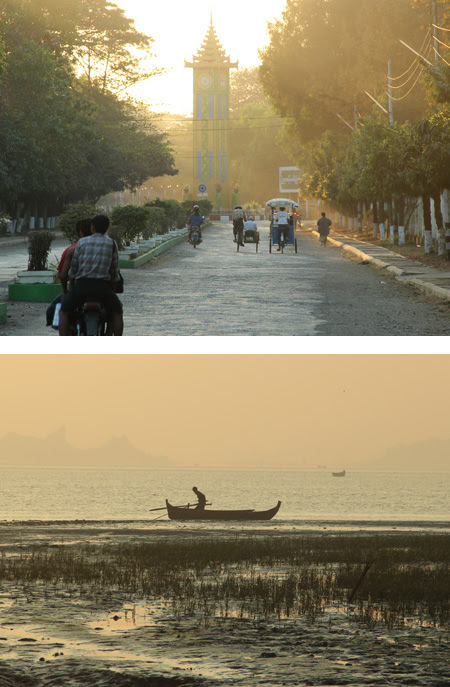 There is a lot more to see than just the monuments at Mrauk U: Sittwe or Akyab as it was known and where you will fly into is a delightful port city with well-preserved colonial buildings. Perhaps one of the last intact colonial cities left in Burma as the Chinese have yet to get here.
We will explore the Kaladan river go up to Kyauktaw with its important shrine and take speed boat trips up the Le Myo River to explore the tattoo people country. The Arakan is very lost in time and far more backward and poor than the Irrawaddy valley, which can both charm and shock. It is a very different culture and language and given the proximity of India there are Indian influences all around, particularly in the local cuisine. Though there have been recent troubles between Buddhists and Muslims we will not pass through any of the affected areas.
It is now quite easy to fly into Sittwe from Rangoon with daily flights. We plan a weekly cruise departing every Friday on the sixteen cabin Katha Pandaw starting November 2015. This enables passengers to combine the Arakan with our other weekly cruises that will connect with it – for example the Chindwin or Bhamo and to be announced very soon the Salween from Moulmein to Hpa-an and Beyond.