FantasyCon launches the world's first interactive fantasy experience for enthusiasts. Premiering July 3-5, 2014 in the Salt Palace, FantasyCon delivers an amazing array of blockbusters.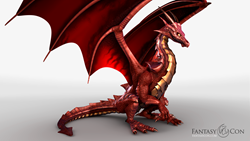 Celebrities, world-renowned authors, award-winning artists, entertainment, master art works, live battle arena, and stunning aerial aerobatics create an experience never before seen on earth. This event shifts the focus from vendor booths and commercial sponsors to transport guests through breathtaking performance and thrilling interactive experiences. This includes massive original creatures led by an imposing dragon that is three-stories tall with a 40-ft wingspan. Over $20,000 in prizes will be awarded to fans and participants. Tickets are now on sale at http://www.FantasyCon.comand SmithTix.
"After over five years of research, the vision for FantasyCon is an affordable family getaway for the largest category among cinema, literature, art, and performance art in the world," states Josh Patel, CEO for FantasyCon. "Whether we're 8 or 80, we respond like children to fantasy. It brings adults back to a state of innocence that feeds the spirit. We invite all to join the adventure and create memories to last a lifetime."
Among the all-star celebrities attending FantasyCon is the wildly popular Sean Astin—Lord of the Rings, Rudy, and Goonies. The event features an unprecedented appearance of more than half of the dwarf characters featured in the movie, The Hobbit. John Rhys-Davies, Graham McTavish and others of the cast of beloved Lord of the Rings characters and many other featured stars will meet and greet fans. Other celebrities include Doug Jones—star of Pan's Labyrinth and Hellboy, and Sylvester McCoy—the powerful wizard Radagast to some and the Doctor from Dr. Who to others. This is just the beginning of big celeb names to be released in coming weeks on Facebook and the website.
Enthusiasts enter FantasyCon with 30-foot sentinels guarding the doors. The 30-foot towering dragon will be hard to miss with its magnificent 40-foot wingspan and amazing artistic engineering. Other creatures to wow fans young and old include an animatronic rock monster that reacts to the audience. A 25-foot castle and life-size statues built by Utah artisans are sure to dazzle. Stay tuned for more sneak peeks into creatures and coming attractions.
Play for Cash: Cosplay (costume play) is a huge part of the fantasy experience. Fans dress up as characters from movies, books, comics or video games. FantasyCon elevates the Cosplay ante with interactive landscapes, zones and backdrops with Cosplayer veterans in mind. Meeting professionals in this industry and participating in contests will be something that both active Cosplay members and first time guests can experience and enjoy. The headliner contest has a best-in-show a ward of $5,000 with all cosplay prizes totaling over $10,000. Cosplay will never be the same.
A child-friendly archery range provides interactive fun while knights of old do battle in the live action arena for LARP (live action role play) followers. World-class aerial acrobats and magicians capture the imagination. The king and queen of FantasyCon grace the crowd with their appearance in pomp and circumstance. Like and follow Facebook often for fun contests before the event: http://www.facebook.com/FantasyCon14.
Masterwork Art
More than 70 pieces worth millions of dollars will showcase the work of master artists in the largest collection of fantasy art ever assembled. World-renowned fantasy artists like Christophe Vacher, Donato Giancola, BROM, and Heather Theurer will be on hand to meet fans and sign autographs.
FilmQuest Festival
FantasyCon ticket holders get full access to FilmQuest Festival,. FilmQuest is a film festival centered on films of the fantastic: sci-fi, fantasy, horror, and beyond. It caters to the empowerment of the filmmaker through various events, awards, swag, connections, and more. Prepare for Fantastic in this part of the experience.