Planning a getaway to Atlantic City from New York City can be very time-consuming and stressful when determining the easiest and most efficient way to get there.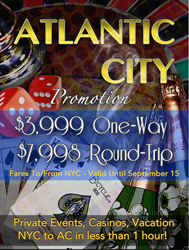 Currently, there are three primary ways to get you to your destination: commercial airlines, paying tolls while driving the Garden State Parkway, orAMTRAK rail-way. The average cost for commercial airfare is $800 per person and there are no commercial non-stop flights between the cities, or travelers can ride AMTRAK for three hours. Tropic Ocean Airways, an executive New York charter seaplane company, is now offering direct flights from New York City to Atlantic City. In less than an hour, begin your weekend escape.
Travelers will depart the East 23rd Seaplane base in Manhattan and fly directly to Atlantic City. "At Tropic we understand how time-consuming travel can be for our guests, and we are excited about our new route and low fares to Atlantic City. For less than $4,000 one way, or $8,000 roundtrip, you and six guests can fly in a stylish and luxurious seaplane between cities. Our rates are determined to compete with four to six passengers traveling to Atlantic City Round-Trip on commercial airlines," said Ryan Custureri, General Manager of Tropic Ocean Airways. Atlantic City is a great place to relax at the beach during the day, enjoy fine dining in the evening, and then head to the casinos to test your best hand at several of the top casinos on the East Coast. The city is booming for travel and entertainment, and Caesars Entertainmentis building a new $126 million convention center in the Marina District to attract more convention and meeting business.
Atlantic City has become an ever popular destination for New Yorkers to visit. Tropic's guests often visit the city to host their bachelor and bachelorette parties, weddings, and weekend gambling retreats. "With our new route and promotion, travelers can fly privately in a first-class aircraft and arrive in 45 minutes. Additionally, expect to avoid long lines at the airports, taxis through Manhattan to LaGuadia or JFK airport, and start your retreat the moment you arrive at the seaplane base," Rob Ceravolo, CEO and President of Tropic, explains. Passengers and guests will receive personalized service from the Tropic sales staff via email [reservations(at)flytropic(dot)com], or toll-free at 1-(800)-767-0897. Visit the website for more information: http://www.flytropic.com.
Tropic flies on an amphibious Caravan seaplane that features an executive interior, fully reclining leather seats, and power adapter ports for electronic media. Guests will receive a copy of the Wall Street Journal, complimentary snacks, and a bottle of champagne while they fly.
Tropic Ocean airways is a veteran-owned company and was founded by a U.S. Navy TOPGUN Fighter Pilot. Their seaplane services enable travelers to arrive within an hour to multiple destinations, which include the East 23rd Street seaplane dock in Manhattan, the Hamptons, and now Atlantic City, New Jersey. Tropic Ocean Airways also provides convenient and personalized flight services between the major airports at JFK, LGA, and Teterboro to Manhattan. The sales staff can be reach via toll-free at 1-800-767-0897, or email reservations(at)flytropic(dot)com.