Following the Cronuts craze early this year, Gourmet at Pudong Shangri-La, East Shanghai will launch another confectionary hybrid – the Cree-Osh, a combination of croissant and brioche a fun and delicate taste.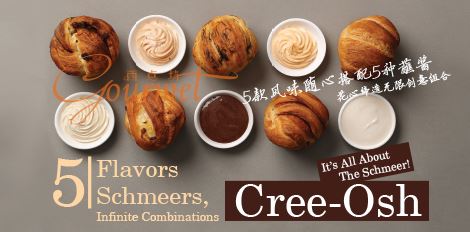 Gourmet's secret lab brings to the public its latest creation: – the Cree-Osh, a brand-new magical pastry that combines the buttery soft exterior of a croissant and the tasty fillings of a brioche. This venerable croissant and delectable brioche blend is a fantastic combination of the best of both worlds – flaky on the outside and fluffy on the inside.
The new delicacy is designed to try with a schemer, which adds a rich and better taste and texture to the pastry. Both savoury and sweet flavours are available to cater to guests' different needs and favourites. The chef has his own recommendation for the best match of Cree-Osh and its schemer. However, guests can always personalise their choices based on their preferences.
The Cree-Osh has five different flavours, namely Roasted Onion, Fragrant Dill, Natural, Cinnamon, Chocolate and five personalised dips to choose from, including Chocolate Cream, Apple Pie, Foie Gras, Lobster, and Smoked Salmon.
The Cree-Osh is available at RMB25 each or 5 box in a box at RMB98. For further details, please telephone Gourmet on (86 21) 6882 8888 extension 270 or visit www.shang-rewards.com. Alternatively, send an e-mail to fbreservation.slpu@shangri-la.com.
Part of Pudong Shangri-La, East Shanghai's collection of trendsetting restaurants, bars and lounges, Gourmet offers a fashionable selection of high-quality pastries, speciality breads, cakes, chocolates and ice cream.  With its boutique decor, Gourmet is ideal for tête-à-têtes, either inside or al fresco.  Gourmet is located on level one of the Grand Tower and is open daily from 8 a.m. to 8 p.m.
Pudong Shangri-La, East Shanghai is located in the Lujiazui finance and trade district of Pudong, an important economic hub in Shanghai and China.  The hotel is ideally located on the eastern bank of the famous Huangpu River, overlooking Shanghai's legendary waterfront strip, The Bund.  A landmark famous the world over, The Bund was Shanghai's financial centre in the early 1890s.  Today, it continues to attract visitors from various parts of the world with its showcase of turn of the century architecture.
Hong Kong-based Shangri-La Hotels and Resorts currently owns and/or manages more than 85 hotels under the Shangri-La brand with a room inventory of over 36,000. Shangri-La hotels are five-star deluxe properties featuring extensive luxury facilities and services. Shangri-La hotels are located in Australia, Canada, mainland China, Fiji, France, Hong Kong, India, Indonesia, Japan, Malaysia, Maldives, Mauritius, Myanmar, Philippines, Singapore, Sultanate of Oman, Taiwan, Thailand, Turkey, the United Arab Emirates and the United Kingdom. The group has a substantial development pipeline with upcoming projects in mainland China, India, Mongolia, Myanmar, Philippines, Qatar, Sri Lanka and the United Arab Emirates. For more information and reservations, please contact a travel professional or access the website atwww.shangri-la.com.