Few things are more important to today's traveler than Internet access. From the plane ride to the hotel stay, connectivity takes precedence over nearly everything else, especially for those who log more weeks on the road than at home.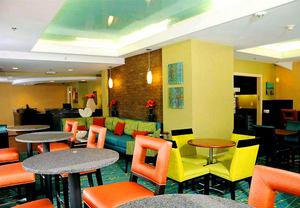 With that in mind, the Residence Inn Herndon Reston has recently installed fiber-optic Internet throughout the hotel for improved speed and reliability, and this significant investment is just one of many new changes debuting at the property.
The decision to upgrade the Internet service came about as a direct result of traveler feedback. With Internet speed and connectivity ranking among the top five things travelers look for in properties, this hotel near Dulles Airport paid close attention — and paid $275,000 to make the necessary changes.
"All of our suites now have fast, dependable Wi-Fi," notes General Manager Chris Soto, "but we are also hardwired for our government and contractor travelers who require a hardline connection for security purposes. The end result for our travelers has been worth every penny of this upgrade."
It has not, however, been the only upgrade. Travelers exploring hotels near IAD will appreciate the new shuttle services offered between Dulles International Airport and this hotel, which is located just four miles away. In addition to this complimentary service, the property offers shuttle service to offices, restaurants and attractions located within a three-mile radius.
For guests who'd rather stay close to their home-away-from-home, the hotel's significant enhancements to its landscape design are particularly welcome. The outdoor courtyard/patio is the setting for the hotel's weekly complimentary barbecues, an event that further sets this property apart from other hotels near Reston Town Center. During the barbecues, guests can take advantage of the ample seating to network, enjoy a casual meal and drink in the landscape views of this six-acre property. Built-in, natural-gas grills are also available for guests who'd like to fire them up during the week.
Though the upgrades and changes have been numerous so far, more is on the way. Visitors, many of whom stay for the long term, will soon be bedding down in new plush mattresses. These suites in Herndon, Virginia will welcome the improved beds this March along with new king-size bed options. And, as always, full kitchens with granite countertops, soundproof padding and updated furniture and fixtures appear in every suite for guests' convenience.