Chicago is known throughout the nation as the city that goes all out for Saint Patrick's Day, and with its strong Irish presence, it's not surprising.
What other city dyes its river and parties till the cows come home, the lights go off and the sun comes up? So enjoy Chicago's beloved St. Patty's Day celebrations and check out the most famous events and the best places to stay for Saint Patrick's Day 2014. Here's the list for 2014: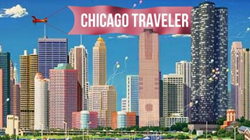 Famous & Fun Chicago Saint Patrick's Day Events
1.) Dyeing the Chicago River
Since 1961, one of the most unique & well known Saint Patrick's Day traditions in the United States, Chicago's annual dyeing of the Chicago River brings huge crowds and is fun for all ages. Join the festivities at 10 a.m. on March 15th this year, at the one and only Chicago River in downtown Chicago. The 45 pounds of green dye is poured in the river at Columbus Drive and the best viewing from the east side of the Michigan Ave. bridge, or, the west side of the Columbus Drive bridge, or, upper or lower Wacker Drive (between Michigan Ave. & Columbus Drive). The color lasts for about 5 hours, so don't miss out!
Here is an interesting time lasped video of the river being dyed green in 2011: http://www.youtube.com/watch?v=SSrogdFkNvE.
2.) Saint Patrick's Day Parade
After the inaugural dyeing of the river, Chicagoans and Chicago travelers can head to the annual Chicago Saint Patrick's Day Parade. The parade route goes along Columbus, from Balbo to Monroe Drive. The celebration includes marching bands, men in kilts, and colorful floats. The fun starts at noon on March 15th. Find more info here:http://www.chicagotraveler.com/st-patricks-day-parade.
3.) St. Patrick's Day River Cruise
Get out on the green river and have the best spot to watch the action – with a cold Guinness in hand! Shoreline Sightseeing offers a St. Patrick's Day Cruise which is a 90 minute tour down the historic Chicago River. Included is a traditional Irish buffet, and favorite Irish drinks. Cruises are open air, so be sure to bundle up in something green.
4.) Where to get your St. Patrick's Day drink on…
Enjoy a tasty Guinness, or two, or three. Drink green beer, and wake up with an Irish coffee. But where? Try the Saint Patrick's Day pub crawl, which goes from noon to 7 p.m. and starts at Clarke's Bar & Grille (be there at noon to register). Irish pubs to check out this St. Patty's Day include Fado Irish Pub, Mcfadden's, and the Kerryman. For a full list of bars in Chicago visit http://www.chicagotraveler.com/nightlife.htm.
5.) South Side Irish Parade
South Side Irish Parade offers an alternative to the jam packed downtown extravaganza. The South Side Parade starts at noon on March 16th, so if you didn't drink too much at the Saturday parade, check out the South Side Irish Parade. The route starts at 103rd St. and proceeds down Western Avenue, ending at 115th St. Enjoy this family friendly event, so bring the kids! See http://www.southsideirishparade.org for details.
Downtown Chicago Hotel Ideas:
Parking is a pain. So skip the whole ordeal and find a hotel in downtown Chicago that is walking distance to the fun. Find a list of downtown Chicago hotels here: http://www.chicagotraveler.com/chicago-hotels.htm, or read this articleabout best downtown Chicago hotels of 2014.