"A Vision of Harmony: The Art of Dominic Man-Kit Lam" exhibition opened today and continues through 30 March at Design Gallery in the Hong Kong Convention and Exhibition Centre. Around 20 of Professor Dominic Lam's masterpieces are on show at the exhibition. The highlight is the Chinese painting entitled "Plum, Orchid, Bamboo, Ganoderm and Rock" (Replica). This is the world famous collaborative masterpiece created by Masters Zhang Daqian, Zhao Shao'ang, Guan Shanyue and Professor Lam in 1982-83. This piece symbolises the unity of all Chinese people around the world.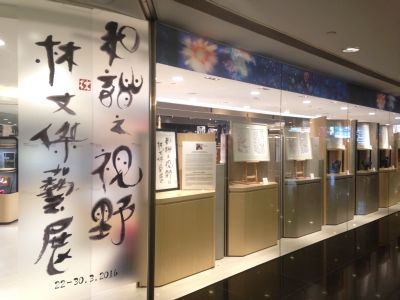 Other pieces featured in the exhibition include: a series of eight poetry-calligraphy-painting works (Replica) commemorating the 50th anniversary of diplomatic relations between China and France. It is a combining eight poems by Mao Zedong with illustrations of the poems by Salvador Dali. Other pieces include the sculpture series named "Life Series" (2001) and the Chinese calligraphy painting "The Bliss of Beauty" (2015). Some of these pieces feature the unique Chinese calligraphy style of Professor Lam referred to as "Calligraphy of the Mind".
Professor Lam is an extraordinary talent in art and science and a very successful businessman and philanthropist. He is also a world renowned artist and is widely recognised as one of the eight greatest contemporary artists in Hong Kong. He has been aptly named the "Renaissance Man" by Professor Leo Ou-Fan Lee of Harvard University for his talent. He is also known for inventing Chromoskedasic Painting (or Nano Art) in 1991, a technique in which colour images are produced using only black and white photographic paper and solutions.
Professor Lam aims to bring the public to his world of arts and share his belief of harmony: "In today's world, it is only through the mutual respect and harmony between heaven, earth and man that world peace and prosperity can be attained." He hopes that through art, complemented by science and charity, mutual understanding between different people will be enhanced.
Design Gallery introduces a range of merchandise inspired by the masterpieces of Professor Lam, including watches, scarves, bags, garment items and more. He aims to share his art with the public, and to create a lifestyle which is enriched with art. During the exhibition, items from the DOMINIQUE collection by Dominic Lam are available with discounts of up to 25 per cent.
"A Vision of Harmony: The Art of Dominic Man-Kit Lam" Exhibition