The widely acclaimed Shang Palace of Shangri-La Hotel, Beijing is famous for its exquisite Cantonese cuisines and healthy dining concept.
With its range of delicious dishes, stylish and elegant environment, cosy family dining atmosphere and high-quality service, Shang Palace has always attracted a large number of guests to explore and discover the essence of Chinese cuisine.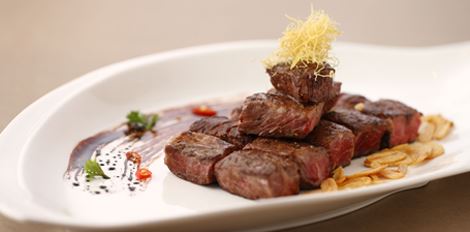 This New Year, Shang Palace, with its constant innovation and pursuit of excellence, presents a suitable gift for gourmet lovers. Well-crafted by Kam Siewtong, the Chinese executive chef of Shangri-La Hotel, Beijing, Shang Palace's new a la cart menu will be launched on 14 March, 2014 as the culmination of Chef Kam's cooking skills. He will welcome all the guests with the combination of Malaysian and Cantonese styles of cooking, his specially designed signature dishes, healthy Cantonese-style dim sum selections and a variety of local cuisines.
Just like looking forward to a wonderful and exciting trip, the eagerness for the new menu can no longer been constrained. Follow the delicious aroma of those delicacies and step onto the special express of Shangri-La Hotel, Beijing to Shang Palace to experience a new culinary journey.
As the saying goes, the year's at the spring. People should pay more attention to their diets in spring. The tender abalone meat is salty and warm-natured, which can be served as tonic, nourish the yin, moisten the lungs and clear heat from the body. Asparagus is known as "the king of vegetables", when abalone and asparagus accompanied by delicious and sweet scallops, this "Sautéed scallops and sliced abalone with asparagus" will give the diners endless aftertastes.
Nutrition is essential for a dish while appearance is what makes your mouth watering. Fresh turbot tastes delicate, soft and creamy, when fried with pepper and other condiments, making it crispy outside and tender inside, it will give your taste buds really delightful experience. What's more, the fish bones are formed into boat shape, making the dish more enjoyable to eat and look all at once.
Besides the new menu, Shang Palace restaurant also promoted home style dinner for busy urban white-collar workers. Say goodbye to fast food meal or heavy restaurant meal, just good wholesome and healthy food. Leave it to Chef Kam to prepare different menu every day. 3 dishes, 1 soup with rice and tea cost only RMB188 per person. Let the warmth of home flow from your stomach to your heart.
Heartbeat is not as good as action. Don't delay the wonderful feeling of enjoying these delicacies. Shang Palace is here waiting to satisfy your appetite for Chinese cuisine. Come and have a go for something new with Chef Kam.
Shang Palace is open seven days a week. Lunch is offered daily from 11:30 a.m. to 2:30 p.m. and dinner from 5:30 to 10 p.m. For reservations, please call 6841 2211 extension 6733.