ArtCenter's new exhibition, In His Own Likeness, showcases diverse media (photography, sculpture, painting and video) of four Latin American artists who illuminate  the subject matter of gender and its relationship with power and divinity.  
The artists are from Guatemala, Mexico and Cuba and include ArtCenter/South Florida resident artist Othón Castañeda, visiting artist Eny Roland with Rocío García and Mario Santizo.  The exhibition is currently on view through March 16 at the Richard Shack Gallery, 800 Lincoln Road. A conversation about gender with the curator Marivi Véliz and special guests will be presented onsite on March 12, at 7:00 p.m.
Eny Roland (Guatemala), La Resureccion from Fabrica de Santos series, 2013
To curate this exhibition, ArtCenter invited 
Marivi Véliz
, a contemporary art lecturer specializing in Central and Latin American Art who moved to Miami last year. This is her first exhibition in the United States. 
Véliz
 is originally from Santa Clara, Cuba with experience curating and lecturing throughout Guatemala, Nicaragua, Brazil, El Salvador and Honduras. In recent years, her focus has been gender studies.
The show aims to reaffirm existence as equally divine through its diversity and its complexities. The images of eroticized men allude to the tradition of defining God as masculine and thereby associating power to the male gender. This in turn addresses how masculinity can unfold, how it can express itself, and even lose all meaning through sex.
Mario Santizo (Guatemala), 
La Venganza
 series, 2013
"With this new exhibition I wanted to address eroticism and masculinity from my own perspective – as a woman," said Marivi Véliz. "I wanted to create a platform to view gender complexities through male sexual expression."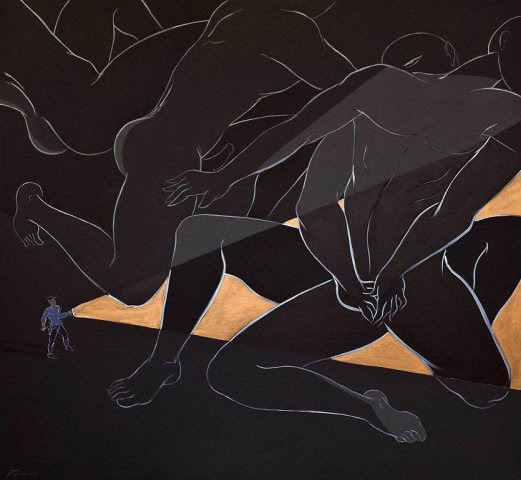 Rocío García (Cuba), from her series 
Very Very Light … and Very Oscuro: Un Policia con Alzheimer
, 2009
"The photographs, video, painting and sculpture work together – and individually – to show how male sexuality can be expressed beyond the hetero norm that has traditionally defined the 'rules' of gender roles," adds Véliz.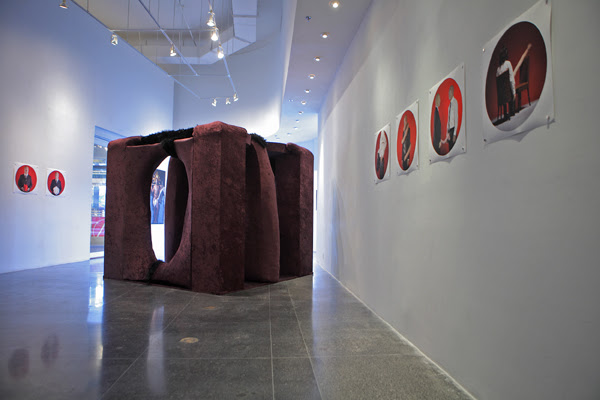 Othón Castañeda (Mexico), 
Staging Desire
 (large-scale sculptural installation), 2014
"I really wanted to boldly open a dialogue about sex, to launch this issue onto the public sphere, and break old patterns by reinforcing images of men built around eroticism, since historically this process has usually been inverted."
Eny Roland (Guatemala), Sangrado Corazon from Dulce Mortificacion series, 2013