CHI, The Spa at Shangri-La Hotel, Bangkok offers a signature "Thai Herbal Compress" treatment reflecting a true sense of Thailand, using local ingredients and time-honoured healing traditions.
The treatment lasts 90 minutes and is priced at Bt3,900. The price is subject to 17.7% service charge and government tax.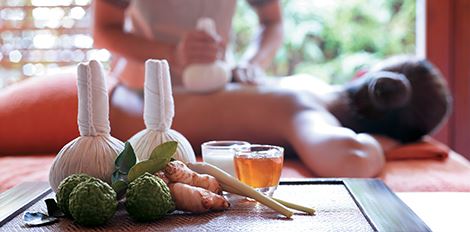 Guest can feel both intensely relaxed and energised by the restorative one and half hour "Thai Herbal Compress" treatment featuring the best medical herbs of the Kingdom of Thailand. This modality combines therapeutic massage, aromatherapy, thermal therapy and herbal therapy in a single treatment.
The treatment features the synergy of warm hands massaging the body intermittently, followed by the famous and indigenous healing Thai therapy that dates back 5,000 years, the luk pra kob. This herbal compress draws on the curative properties of choice medicinal herbs like lemongrass, ginger, prai, turmeric, kaffir lime, camphor and tamarind. The compress is steamed then applied to the body through circular, rolling and gentle pressing motions focusing on the meridian lines. It was used by Thai royalty for complex remedies and by soldiers to manage aches and pains after returning from battle. Today, it is commonly used to soothe muscular aches and inflammation and to provide relief from stress and fatigue.
Some of the ingredients of thi centuries-old tradition are:
Kaffir Lime – a widely use ingredient in many Thai dishes and a common fixture in most Thai's backyards. It is believed that kaffir lime purify the mind and body and protect against evil spirits.
Lemongrass – known for its calming effect that relieves insomnia and stress. It is also known as citronella which is considered as a mild insect repellant. It has antibacterial and antifungal properties when mixed with pepper. It is a home remedy for menstrual troubles and can also be drunk as tea as it is an effective diuretic.
Turmeric – one of nature's most potent healers. A natural antiseptic and antibacterial agent that is effective in disinfecting cuts and burns. It can also support fat metabolism and aid in weight management.
Lotus – associated with heavenly beings and in Buddhism, it is the symbol of divinity, fertility, wealth, knowledge and enlightenment. Today, mainstream science has recognised the lotus flower's ability to 'self-clean', hence the term "lotus effect," applying the principle to various expertise-like skincare.
Tamarind – contains an abundant supply of antioxidants, carotenes, vitamin C, phytochemicals and the B-vitamins. It is also a rich source of potassium, magnesium and fiber that helps in reducing fevers while fighting against cold infections.
Thai White Clay – has been used as a cooling, softening and natural healing treatment for centuries in Thailand.
Fore more information or treatment appointments, please call the hotel's CHI, The Spa reception on (66 2) 236 7777 extension 6072 or email slbk@shangri-la.com/bangkok.