Island Shangri-La, Hong Kong will partner with renowned international fashion designer Dorian Ho to unveil a splendid showcase of professional wedding services for soon-to-be brides and grooms.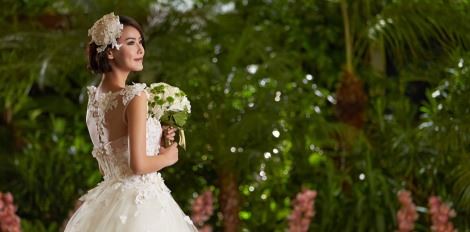 The 2014 Bridal Fair themed "The Precious Secret Garden" will take place on the Roof Garden on level 56, in the Library and Atrium on level 39, and in the Island Ballroom on level five between noon and 6:30 p.m. with free admission.
The fair will feature elaborate and practical wedding inspirations ranging from the latest wedding and evening gown collection by Dorian Ho, sophisticated jewellery by Tiffany & Co., beauty products, make-up and hair styling advice by Shiseido and Private I, as well as a champagne tasting by Perrier-Jouët.  Visitors will also have the opportunity to engage with the hotel's event planning experts on wedding planning, table and venue settings, floral arrangements, photography, music and hair styling.
In addition, the hotel's themed "Signature Weddings" packages with rates starting at HK$13,888* per table will be featured at the fair.  Couples who confirm their wedding banquets on that day will stand a chance to win a honeymoon at a Shangri-La hotel or resort in Vancouver, Tokyo, Fiji Islands, Dubai, Singapore, Kota Kinabalu, Kuala Lumpur, Cebu, Chiang Mai, Beijing or Shanghai.
For further information, please call the hotel's events management department at (852) 2820 8517 or e-mail events.isl@shangri-la.com.
Dorian Ho is one of the most renowned fashion designers in Hong Kong.  He debuted his first evening gown collection Dorian Ho Collection in 2001, which he showcased at the Australia Fashion Week and New York Fashion Week.  The Dorian Ho Collection is currently sold at major stores in Hong Kong, the United States, Australia, Singapore, Indonesia, Malaysia, mainland China and the Middle East.  In 2005, Dorian launched the custom-made bridal collection Dorian Ho Bridal, which made him one of the most sought-after wedding gown designers.  In 2011, he introduced a children's party clothes collection, BabyDoll by Dorian Ho.  In 2012, he launched a youthful fashion line named Doll by Dorian Ho and Dorian Ho Homme for men.  Dorian Ho is gradually expanding his fashion empire.
Hong Kong-based Shangri-La Hotels and Resorts currently owns and/or manages more than 80 hotels under the Shangri-La brand with a room inventory of over 34,000. Shangri-La hotels are five-star deluxe properties featuring extensive luxury facilities and services. Shangri-La hotels are located in Australia, Canada, mainland China, Fiji, France, Hong Kong, India, Indonesia, Japan, Malaysia, Maldives, Myanmar, Philippines, Singapore, Sultanate of Oman, Taiwan, Thailand, Turkey, the United Arab Emirates and the United Kingdom. The group has a substantial development pipeline with upcoming projects in mainland China, India, Mongolia, Myanmar, Philippines, Qatar, Sri Lanka and the United Arab Emirates. For more information and reservations, please contact a travel professional or access the website at www.shangri-la.com.