Starting 1 March 2014, guests are welcome to purchase special Earth Hour cupcakes from Kerry's Pantry or Adventure Zone.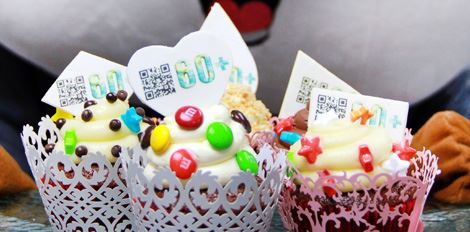 These hand-made cupcakes will be sold at RMB20 and carry a QR code that will give guests some energy-saving tips. Guests may then screenshot their favourite tip, share it on social media and bring in the screenshot for free shooters during Earth Hour (29 March 2014 from 8:30 to 9:30 p.m). At this time, the hotel will power down and shut off all non essential lighting in the guestroom corridors and staff areas.
Additionally, all exterior lighting will be switched off. Everyone is invited to gather in the lobby and join the hotel for an unplugged jam session with the house band. For cupcake orders please contact Kerry's Pantry on (8610) 8565 2788.
The ambassador for the Earth Hour cupcakes is the hotel's Adventure Zone mascot, Jia Bao the panda. One hundred per cent of the profits from the cupcakes will be donated to Jia Bao's panda friends in Sichuan, China. Specifically, funds raised will go to Shangri-La's Care for Panda Project. The project supports a 1.6-hectare bamboo plantation that will ensure food security for the country's beloved pandas. The plantation is scheduled to open to the public this year.
Jia Bao will make an appearance to sell cupcakes at Kerry's Pantry and Adventure Zone. Guests are also welcome to follow Jia Bao's campaign on Instagram (kerryhotelbeijing) and Weibo (@北京嘉里大酒店) as he shares weekly shots of how he contributes to the global Earth Hour campaign #yourpower. Followers are also encouraged to share photos of how they are taking part in Earth Hour in Beijing.
Kerry Hotels are the next generation of luxury hotels! Vibrant, unpretentious and flexible. Today's traveler wants to engage all senses whether at work or at play. Kerry Hotels have a fresh and energetic vibe and offer some unexpected touches that fuel creativity yet allow time to recharge and relax. Service is less bound by protocol but is enthusiastic and intuitive.
Launched in February 2011 in Pudong, Shanghai with a sister property in Beijing, Kerry hotels are seamlessly integrated with the surrounding environment in multi-purpose complexes. Extensive sports and wellness facilities and trend setting Food and Beverage concepts cater to the youthful and spirited business and leisure traveller looking for a quality five star hotel that focuses on their individual lifestyle needs. Kerry hotels represent passionate hospitality wrapped up in a stylish package.
For more information and reservations, please contact a travel professional or access the website at www.thekerryhotels.com.