Kerry Hotel, Beijing, in collaboration with Shangri-La's Far Eastern Plaza Hotel, Taipei and Shangri-La's Far Eastern Plaza Hotel, Tainan, will present an enticing variety of authentic Taiwanese dishes to guests at both Kerry's Kitchen and Horizon Chinese Restaurant.
Leading the culinary journey is Executive Sous Chef Elvis Chen from Taipei and Tainan's Junior Sous Chef Max Wang. Together, they will showcase their signature Taiwanese delicacies.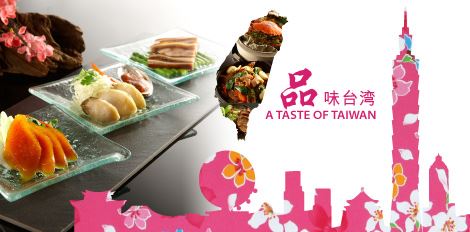 Kerry's Kitchen will feature decadent lunch and dinner buffets from 4 to 14 June 2014. Guests are invited to enjoy the authentic cuisine for RMB258+ per person. Reservations may be made via the restaurant at 8565 2088. For an exclusive look into traditional Taiwanese delicacies, Horizon Chinese Restaurant offers a special set menu priced at RMB258+ per person from 4 to 7 June 2014. Bookings may be made via the restaurant at 8565 2188.
All guests dining during the "A Taste of Taiwan" promotion are eligible to enter the lucky draw. The grand prize is a trip for two to Taipei with airfare and accommodation at the luxurious Shangri-La's Far Eastern Plaza Hotel, Taipei. Other top prizes include stays at Shangri-La's Far Eastern Plaza Hotel, Tainan and a RMB 1000 gift voucher to Horizon Chinese Restaurant A top gourmet travel destination, Taiwan is home to a cultural diversity that influences its flavourful dietary culture. Guests embarking on a culinary journey of discovering Taiwan will be surprised by the subtle and uniquely Formosan aromas presented at this food festival.
Kerry Hotels are the next generation of luxury hotels! Vibrant, unpretentious and flexible. Today's traveler wants to engage all senses whether at work or at play. Kerry Hotels have a fresh and energetic vibe and offer some unexpected touches that fuel creativity yet allow time to recharge and relax. Service is less bound by protocol but is enthusiastic and intuitive.
Launched in February 2011 in Pudong, Shanghai with a sister property in Beijing, Kerry hotels are seamlessly integrated with the surrounding environment in multi-purpose complexes. Extensive sports and wellness facilities and trend setting Food and Beverage concepts cater to the youthful and spirited business and leisure traveller looking for a quality five star hotel that focuses on their individual lifestyle needs. Kerry hotels represent passionate hospitality wrapped up in a stylish package.
For more information and reservations, please contact a travel professional or access the website at www.thekerryhotels.com.