Be committed to providing guests with unsurpassed experience whilst keeping close to heart the principle of eco-friendliness in its operations and management, Kerry Hotel Pudong, Shanghai is proud to introduce two of the latest BMW ActiveHybrid 7 limousine for the first time in the East China region.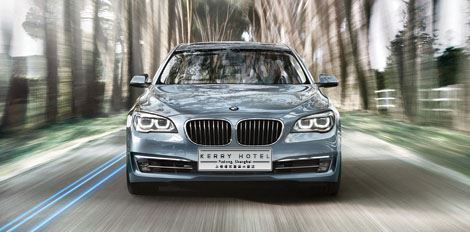 With a comfortable ambience, supreme rear-seat entertainment, Bang & Olufsen high-end audio system and the brand's exclusive appearance, the BMW ActiveHybrid 7 allows guests to indulge in pure relaxation. Low fuel consumption and intelligent energy management work in perfect union – guests will never lose dynamics and fashion on the road. Complimentary Wi-Fi access is also provided throughout the limousine experience.
Kerry Hotel's objective is to bring a comfortable and luxurious experience to our guests while being mindful of a greener environment – 14 trees will be planted under the hotel's name for the purchase of two cars. Since opening in 2011, Kerry Hotel has continuously strived to support its commitment to corporate social responsibility, including the paperless check-in and check-out system launched in 2012, also a first in the city.
The BMW ActiveHybrid 7 limousine service is available from 1 June. For enquiries, please call 6169 8888 or e-mail khpu@thekerryhotels.com.
Kerry Hotel, Pudong, Shanghai provides seamless access to multi-brand shops and boutiques, and dining and entertainment facilities within the Kerry Parkside shopping mall and the office tower and residences at Kerry Parkside, a serviced apartment tower.  The Shanghai New International Expo Centre (SNIEC), the city's largest trade exhibition venue with more than 300,000 square metres of space and connects directly to the complex via an enclosed footbridge and walkway.
Dining at Kerry, guests can experience an integrated three-in-one dining concept – The BREW, a craft brewery showcasing six award-winning beers and one cider with a gastro pub menu, The MEAT, a contemporary steakhouse and speciality grill, and The COOK, an all-day dining restaurant that features 13 "live" kitchens.
Kerry Sports, Shanghai's largest fitness and recreation destination, operates 24/7 and spans four activity zones, including the "Iron Man" indoor triathlon training zone, cardio, personal training, strength circuit and free weights.  Four exercise studios measuring 50 to 140 square metres provide classes in aerobics, yoga (including hot yoga), spinning, and Pilates. It also includes an indoor children's playground – the Adventure Zone.
Shangri-La Hotels and Resorts remains committed to operating in an economically, socially and environmentally responsible manner while balancing the interests of diverse stakeholders.  In striving to be a leader in corporate citizenship and sustainable development, a corporate-level CSR Committee drives the company's initiatives in the strategic areas of stakeholder relations, environment, health and safety, supply chain and employees.  Under the umbrella of sustainability, Shangri-La's social responsibility programme consists of the two elements of "embrace" and "sanctuary".  Embrace focuses on Shangri-La's Caring People Project, which aims to promote the highest level of education and health support in underprivileged communities.  In sanctuary, the programme concentrates on Shangri-La's Care for Nature Project, which promotes the conservation and restoration of biodiversity.  For more information, please access the CSR section on 
www.shangri-la.com
.