The extensive menu highlights six Signature Mains, offers the best from each live action show kitchen and includes a salad bar and dessert buffet.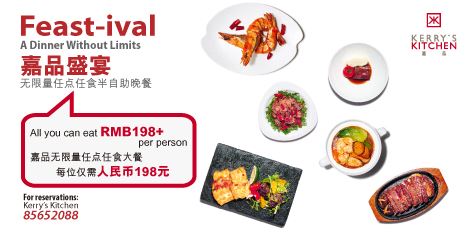 Featuring six star dishes, including Homemade Fish Noodle Soup, Hong Kong-Style Tiger Prawns, Braised Beef Cheek, Australian Lamb Loin, Crispy Cod and Beef Ribeye, the menu also highlights Kerry's long-term favourites, Chilli Lime Chicken Wings, Laksa and Hainanese Chicken Rice. Additionally, there is a selection of surf and turf, sushi rolls, sashimi, sushi, yakitori, tempura, rice dishes, noodle dishes and classic sides. The salad bar showcases fresh greens, vegetables, imported cheeses and multiple kinds of cold cuts and smoked salmon. Guests are strongly encouraged to save room for the dessert bar, which has everything from cheesecake to an ice cream station.
Feast-ival will kick off with various promotional offers, as listed below.
Kerry's Kitchen
Guests who book a table for six or more in advance will receive a complimentary bottle of wine. Birthday guests can enjoy their special day by choosing one of the restaurant's complimentary cakes. Guests are also invited to capture their favourite Feast-ival moments and join the photo competition on Instagram (@bkerryhotelbeijing) and Weibo (@北京嘉里大酒店). Participants can win up to RMB8,000 in hotel cash cards.
Centro
Guests who spend a minimum of RMB100 at Centro and purchase a Feast-ival dinner will enjoy free-flow beer for one hour.
In-House Guest
In-house guests who bring a special key card insert to dinner to enjoy sake or a glass of wine on the house.
Kerry Sports
Kerry's Sports members who indulge in Feast-ival stand a chance to win a locker, PT session or court rental at Kerry Sports.
Adventure Zone
Adventure Zone guests who book the Feast-ival dinner stand a chance to win a gift card valued at RMB500.
For more information and promotion details, please call Kerry's Kitchen on (86 10) 8565 2088.
Kerry Hotels are the next generation of luxury hotels! Vibrant, unpretentious and flexible. Today's traveler wants to engage all senses whether at work or at play. Kerry Hotels have a fresh and energetic vibe and offer some unexpected touches that fuel creativity yet allow time to recharge and relax. Service is less bound by protocol but is enthusiastic and intuitive.
Launched in February 2011 in Pudong, Shanghai with a sister property in Beijing, Kerry hotels are seamlessly integrated with the surrounding environment in multi-purpose complexes. Extensive sports and wellness facilities and trend setting Food and Beverage concepts cater to the youthful and spirited business and leisure traveller looking for a quality five star hotel that focuses on their individual lifestyle needs. Kerry hotels represent passionate hospitality wrapped up in a stylish package.
For more information and reservations, please contact a travel professional or access the website at www.thekerryhotels.com.