Lonely Planet has partnered with global travel search provider, Skyscanner, to launch a new flights-comparison engine.
This is the first time that Lonely Planet, the world's leading travel media company, has hosted an own-branded flight search engine.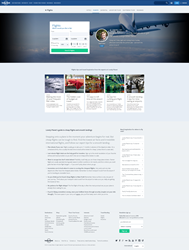 Sitting within the booking section of LonelyPlanet.com, the mobile-optimized search engine is seamlessly incorporated into the recently re-designed site.
Tom Hall, Director of Digital Editorial for Lonely Planet said, "This is an exciting partnership for Lonely Planet. Skyscanner has provided the customization and flexibility to enable us to fulfill the needs of our growing, global audience. It is also a crucial step in our journey to make every part of the travel experience bookable on LonelyPlanet.com. Our site is evolving to become a one-stop hub for travelers, providing them with inspiration, and the information and tools they need to plan and book a trip."
Filip Filipov, Head of B2B, Skyscanner said, "Skyscanner is delighted to be providing its flight search capability to Lonely Planet, enabling it to offer its millions of customers an easy and comprehensive way to search for global flights."
In addition to flights, travelers can book or purchase a range of products and services on LonelyPlanet.com, including accommodation, car rental, insurance and a range of tours. The site provides information on 27,000 destinations and has a travel forum with a community of over 1.3 million members.
Travelers can book flights athttp://www.lonelyplanet.com/flights and within the "Need to Know" section of each destination page.