Makati Shangri-La, Manila's premiere Japanese Restaurant Inagiku celebrates the spring season in Japan with a nine-course Sakura Kaiseki Set that can be enjoyed for lunch or dinner from April 1 to 30.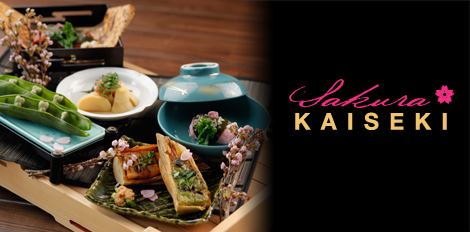 Executive Japanese Chef Wataru Hikawa selects the freshest ingredients to create a multi-course menu which includes: Boiled nanohana flower tofu, Grilled bamboo shoot with teriyaki sauce, Wagyu beef with sweet miso, grilled egg yolk with scallops and more. Guests are invited to bring family and friends to a distinct dining experience with this signature set available for a limited time only.
Kaiseki or kaiseki-ryōri is a traditional Japanese dinner with more than seven courses and is considered to be one of the most prestigious dining experiences in the world. It is a culinary art form that follows a carefully planned dining sequence using a meticulous selection of seasonal ingredients and a visually enticing presentation of each course.
Inagiku is open daily for lunch from 11:30 a.m. to 2:30 p.m. and for dinner from 6 p.m. to 10:30 p.m. The restaurant offers the finest Japanese cuisine in a refined cosmopolitan setting with a sushi bar, teppanyaki counter and private tatami rooms. For reservations and further information, please call Restaurant Reservations at (63 2) 814 2580 or email rric.slm@shangri-la.com, or book a table online through www.bit.ly/inagiku8.
Hong Kong-based Shangri-La Hotels and Resorts currently owns and/or manages more than 80 hotels under the Shangri-La brand with a room inventory of over 34,000. Shangri-La hotels are five-star deluxe properties featuring extensive luxury facilities and services. Shangri-La hotels are located in Australia, Canada, mainland China, Fiji, France, Hong Kong, India, Indonesia, Japan, Malaysia, Maldives, Philippines, Singapore, Sultanate of Oman, Taiwan, Thailand, Turkey and the United Arab Emirates. The group has a substantial development pipeline with upcoming projects in mainland China, India, Mongolia, Myanmar, Philippines, Qatar, Sri Lanka and United Kingdom. For more information and reservations, please contact a travel professional or access the website at 
www.shangri-la.com
.