Shangri-La's Rasa Sayang Resort & Spa, Penang and Golden Sands Resort by Shangri-La, Penang have been named resorts with the "Best Hotel Services" under the five-star and four-star resorts categories, respectively, by the Ministry of Tourism and Culture, Malaysia, at the recent Malaysia Tourism Awards 2012/2013.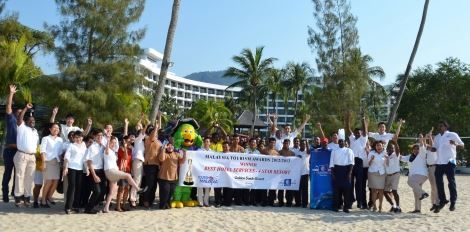 The awards were presented by Tourism and Culture Minister Datuk Seri Nazri Abdul Aziz during a special dinner and award presentation ceremony. Over 1,000 foreign ambassadors and notable dignitaries commemorating the 18th Malaysia Tourism Awards attended the event at Kuala Lumpur Convention Centre on 20February 2014. Golden Sands Resort, Penang retained its honours for best hotel services under the four-star category for the second consecutive time after winning in the same category for 2010/2011, while sister property Rasa Sayang Resort & Spa, Penang clinched the best hotel services award for the five-star category.
The much-anticipated Malaysia Tourism Awards are the highest accolades given by the Ministry of Tourism and Culture Malaysia to only the best players in the industry that offer quality and excellent services to their guests.
A panel of 59 judges comprising industry experts selected the winners from thousands of entries over many months for these prestigious awards.
Both Rasa Sayang Resort & Spa, Penang and Golden Sands Resort, Penang won the most points over its competitors of the same calibre. Nominees were evaluated on overall efficiency, courtesy and hospitality-related qualities in the areas of hotel operations for front and back of the house, such as reservation, reception, guest relations, telephone operations, bell services, laundry, housekeeping, security, food and beverage, interior decoration, uniforms, cleanliness and maintenance. Other factors included value-for-money and overall ambience.
"These double honours were received at a very opportune time as this year is Visit Malaysia Year 2014," said Suleiman Tunku Abdul Rahman, director of communications of both Rasa Sayang Resort & Spa, Penang and Golden Sands Resort, Penang. "We hope that winning these awards will inspire our colleagues and our counterparts to aspire for greater heights in terms of facilities and services as this is not just a victory for both our sister resorts, but also a victory for the Penang hospitality fraternity which we represent."
Hong Kong-based Shangri-La Hotels and Resorts currently owns and/or manages more than 80 hotels under the Shangri-La brand with a room inventory of over 34,000. Shangri-La hotels are five-star deluxe properties featuring extensive luxury facilities and services. Shangri-La hotels are located in Australia, Canada, mainland China, Fiji, France, Hong Kong, India, Indonesia, Japan, Malaysia, Maldives, Philippines, Singapore, Sultanate of Oman, Taiwan, Thailand, Turkey and the United Arab Emirates. The group has a substantial development pipeline with upcoming projects in mainland China, India, Mongolia, Myanmar, Philippines, Qatar, Sri Lanka and United Kingdom. For more information and reservations, please contact a travel professional or access the website at 
www.shangri-la.com
.