Chef Tsuyoshi Motoyama presents a new tasting menu at Nadaman at Pudong Shangri-La, East Shanghai, delivering creative Japanese cuisine with a traditional and contemporary twist.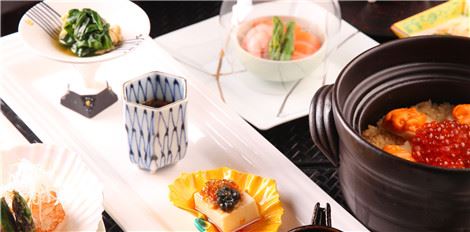 Chef Motoyama's tasting menu consists of nine exquisite courses aimed to invite diners to embark on a rich and complete journey of Japanese fine dining. Chef Motoyama has the courage to break through old traditions and thus create innovative dishes that not only preserve the essence of authentic Japanese cuisine, but also introduce creative ideas and concepts into cooking and garnishing. His cooking style is based on Kaiseki with a Tokyo touch, basically, traditional but with modernity.
The tasting menu starts with Steamed Small Crab served in a crab shell, followed by  four delicate appetisers, namely Boiled Pak Choi with Deep Fried Bean Curd; Pidan Tofu with Leek and Sesame; Marinated Dried Persimmon, Bamboo Shoot and Shiitake Mushroom in Cream Cheese and Steamed Egg Custard with Eel, presented in stylish small plates.
After the appetite-stimulating dishes is suimono, a third course of Ice Fish Steamed in Sake with Egg Tofu. The soup enjoys a beautiful presentation of a flower-shaped Egg Tofu on the bottom, white ice fish in the middle and fresh green vegetables, yellow lemon slices and same flower-shaped carrot slices on top, as gorgeous and charming as a Japanese flower- arranging art piece.
Assorted Fresh Sashimi is served as tukuri, the fourth course. The Sashimi is beautifully presented in a hollow ice ball with nice mini plant leaves inserted aside as garnishing. Chef Motoyama's creative dish presentations provide impressive three-dimensional effects to customers. The Sashimi includes tuna belly, amberjack, botan shrimp and flounder that are well defrosted and maintained in proper temperature, thus perfectly capturing the nutrition and freshness of the ingredient.
Following tukuri, a nimono of Boiled Tuna, Leek and Daikon Radish in Hot Pot is offered. The tuna belly is well cooked in a delicious light broth, giving diners an unexpected but incredibly tasty way of eating tuna.
The highlight in yakimono is Grilled Scallop with Asparagus and Shiitake Mushroom. Smoked Salmon with Sweet Shrimp and Vegetables is served as tomezakana to refresh the mouth and get diners prepared for the syokuji of Steamed Rice with Sea Urchin, Salmon Roe and Abalone in a special pot and served with Miso Soup and Pickles. The savoury main dish finally brings guests' taste buds to an ultimate enjoyment. To close the Japanese feast, Chef Motoyama presents Strawberry Mouse, Corn Cocktail and Sesame Ice cream.
Chef Motoyama's Tasting Menu is priced at RMB688 plus 15 per cent service charge. For reservations, please contact food and beverage reservations at (86 21) 6882 8888 extension 6888. Alternatively, send an e-mail to fbreservation.slpu@shangri-la.com.
Nadaman opens daily for lunch from 11:30 a.m. to 2:30 p.m. and for dinner from 6 to 10 p.m.