Staying at the Renaissance Fort Lauderdale Cruise Port Hotel is about to become even more enticing. Guests have long appreciated the boutique hotel's proximity to the beach, cruise ports and Las Olas, not to mention its recently renovated accommodations.
But with new leadership now at the helm, plans are underway to make each visit, whether for business or pleasure, especially memorable.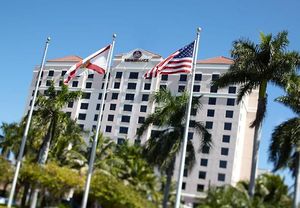 In a symbolic and practical gesture, one of the first changes to be implemented by the team was to bestow a fresh coat of paint on the exterior. The change feels akin to a rebirth, and standing by to ensure its safe delivery is General Manager Lori Lynn. Lynn joined this luxury hotel in Ft. Lauderdale in July 2013 by way of the Renaissance Atlanta Waverly Hotel and Convention Center where she held the position of Director of Hotel Operations.
Lynn has spent a little over a decade in the hospitality industry, working in every sector, from developing associates to overseeing finances. Her diverse experience nicely complements the Florida-centric experience of the new Director of Sales and Marketing, Michael Cook. Cook's 20 years of sales experience has been primarily spent in hospitality in Florida's biggest destinations: Miami, Fort Lauderdale and Orlando. He joined Lynn in November 2013, leaving behind his position with the Marriott Florida Group Sales Office.
Lynn and Cook's combined experience puts the property in an ideal position to compete against other Fort Lauderdale hotels. They look to strengthen its presence within the community as they continue to employ and lead over 100 local ambassadors at the hotel. Focusing their efforts on developing the hotel's share of social events, weddings, galas and fundraisers, Lynn and Cook are uniquely qualified to achieve considerable success.
But just as important as securing a strong role in Fort Lauderdale's events scene is enhancing the overall Renaissance-brand guest experience. To this end, Lynn, Cook and their two other new teammates, Director of Finance William Cole (joined January 2014) and Director of Engineering David Cortina (joined August 2013), are working to optimize key Renaissance features. Guests of this hotel near Port Everglades will soon enjoy an amplified calendar of RLife events, which highlight local talent via concerts, art exhibits and culinary demonstrations. Visitors will also benefit from the expert insider recommendations of an in-the-know concierge, known at Renaissance hotels as Navigators. With an eye toward local restaurants, shops and museums, these Navigators will be able to curate an authentic itinerary for visitors.
With so many positive changes already underway, the future has never been brighter for this Florida property and its guests.