New Jersey is a great state for hiking and experiencing Mother Nature, especially in the fall when the weather is crisp and the leaves are at their colorful best.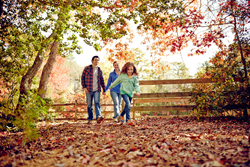 Exhilarating and exciting hiking trails criss-cross the state, top to bottom, meaning there are good choices from every starting point.
The following list of top fall hikes in New Jersey is based on feedback from hikers who have trekked the terrain and experienced the season's splendors. The most popular hiking areas are found in spectacular settings like parks, forests, and waterways, and include will reveal cascading waterfalls and old ruins, highland overlooks, even vistas of the New York City skyline.
As always, http://www.visitnj.org is the central point for information about navigating the Garden State and its many outdoor options.
The helpful hike Web site, http://www.njhiking.com/hiking-101, also provides important details about favorite locations, the level of expertise required for a comfortable and enjoyable adventure, tips from hikers who've made the hike and specifics to know before embarking.
So lace up a sturdy pair of shoes and start exploring.