In a move that recognizes the burgeoning popularity of a recent addition to the festival schedule in the city of festivals, Fearless Performers, the organizers of the "New Orleans Fringe Festival Fearless Audiences" (better known as NOLA Fringe), have announced a partnership with the New Orleans Hotel Collection.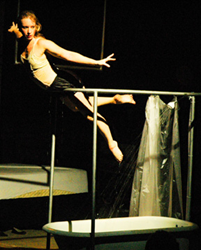 The New Orleans Fringe Festival started six years ago and is an event that brings together some of the most daring performance artists in the city in more than 80 different venues and hundreds of performances. Each year has seen phenomenal growth in the activities and audiences, and this year, to assist visitors in finding comfortable, nearby accommodations, NOLA Fringe has named the New Orleans Hotel Collection hotels as official recommended hotels.
The seven hotels of the collection – Bourbon Orleans, Dauphine Orleans, Audubon Cottages, Hotel Mazarin, Hotel Le Marais, Whitney Hotel and Crowne Plaza New Orleans Airport – are all in locations that provide superb and easy access to the events of the festival as well as the dining and shopping attractions of the French Quarter.
Special festival rates reserved directly with the Collection hotels are lower than anything found at online booking services and are available to the general public who wish to attend the festival. Hotel reservations can be made online at: http://www.neworleanshotelcollection.com/200.
Taking place November 19-23, this year's festival offers visitors and locals a full array of performance art. Visit http://www.nofringe.org for a complete schedule of performance dates and venues, and order ticket passes, including a self-guided walkable and bike-able "Yard Art Tour" and information on the "Free For All" tent in Architect's Alley. This unique festival begins with the unusual aspect performances and audiences are treated to a wide selection of theater, music, poetry, and other forms of performance art.
Fringe theater is a tradition that started in Edinburgh, Scotland in 1947 when eight performing groups were excluded from the mainstream annual arts festival. They performed anyway, finding inexpensive or free venues on the fringes of the city. The Edinburgh Fringe Festival has since grown into one of the largest arts festivals in the world. These are the roots of the New Orleans Fringe Festival – the festival of the wild, weird, fresh and original. New Orleans has always been a city that embraces artists, where creativity flourishes, and the "off-the-wall" has gravitated. New Orleans Fringe is a 501(c)3 non-profit corporation that was started by a handful of New Orleanians in 2008. It has grown since then, with the November Fringe Festival a flagship event. Other services and activities are held throughout the year as part of the Fringe Alternative Theater Incubator (FATI).