Adorama, one of the world's largest photography, video, imaging and electronics retailers, now has available for pre-order Nikon's new higher-resolution versions of its starter and mid-range mirrorless compact cameras, the Nikon 1 J4 and Nikon 1 S2; the new pro-level Nikon AFF-S-NIKKOR 400mm photo lens and a converter for its DSLRs; and new underwater photography gear for the Nikon 1 camera series. The new Nikon models can be pre-ordered on Adorama's website athttp://www.adorama.com/pages/Nikon_05_14.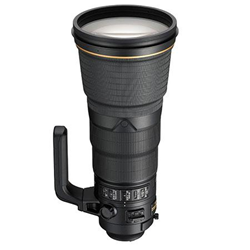 Pro 400mm Lens, Extender Launch
Aimed at the professional sports photography market, the new Nikon AF-S NIKKOR 400mm f/2.8E FL ED VRis lighter and more rugged than its predecessor. The maximum aperture delivers a stunning bokeh. Its low-light capabilities are increased by four stops thanks to an advanced Nikon VR technology.
The new 400mm lens features a new mode specifically for shooting sports and action. The specialized electromagnetic diaphragm mechanism achieves consistent exposures when shooting at high frame rates. The lens's autofocus can be overridden by spinning the lens barrel to change focus manually.
The Nikon 1 J4 Mirrorless Digital Camera
The mid-range Nikon 1 J4 replaces the J3 as the beginner-to-enthusiast level compact, interchangeable lens solution. The slightly smaller J4 boasts a new, higher-resolution sensor and faster image processing engine, more AF focusing points for faster focus, a high-resolution touchscreen LCD monitor, and built-in Wi-Fi connectivity.
New and updated features:
    18.4MP sensor
    Expeed 4A image-processing engine
    171 focus areas with 105 center areas supporting phase detection
    Slow motion video up to 120fps at 720p
    Built-in Wi-Fi
    Three-inch, 1037k dot touchscreen LCD
The Nikon 1 J4 supports microSD, MicroSDHC and MicroSDXC formats
Nikon 1 S2 Mirrorless Digital Camera
The second-generation Nikon 1 S2 is designed to capture the action. The new Nikon 1 S2 features a higher-resolution sensor and a faster image-processing engine than its predecessor, the Nikon S1. It also offers an expanded ISO range and supports the microSD format.
New and Improved Features:
    14.2MP, one-inch CX Format CMOS sensor
    Expeed 4A image-processing engine
    ISO range 200-12,800
    RAW and JPEG still image capture
    Matrix, center-weighted and spot metering
    Up to 60fps burst rate
    Video up to 1080/60p
    Up to 10 still images while recording video
    Wi-Fi via WU-1a adapter
    Three-inch, 460k dot resolution LCD monitor
Underwater Flash, Housing for Nikon 1 Cameras
Nikon has added underwater capabilities to its two lower-end cameras. The Nikon WP-N3 is an underwater housing unit for scuba diving with the Nikon 1 J4 or Nikon 1 S2, taking it down to a depth of 147 feet (the AW1 can be submerged to 49 feet). The housing can accommodate the 1 NIKKOR 11-27.5mm f/3.5-5.6 and 1 NIKKOR VR 10-30mm f/3.5-5.6 PD-ZOOM lenses, and allows users to capture underwater stills and videos.
Nikon is also offering the new Nikon 1 SB-N10 Underwater Speedlight, an underwater flash that can be taken as deep as 328 feet. It has a guide number of 92 feet at ISO 100, making it very powerful for deep dives. A new underwater bracket (SK-N10A) and fiber-optic cable let you work with camera and flash as a single unit.
For an in-depth look at the new releases from Nikon, check out industry expert Mason Resnick's article on the Adorama Learning Center at http://www.adorama.com/alc/0014687/blogarticle/nikon-news-mirrorless-updates-400mm-lens-underwater-gear.
Pricing and Pre-Order Information
The new Nikon AF-S NIKKOR 400mm f/2.8E FL ED VR Lens is available for 11,999.95 USD.
The Nikon 1 J4 is available in Black, Orange, Silver and White for 596.95 USD with the 10-30mm kit lens; it is also available in kits with the 30-110mm and/or the 10-100mm zoom lens for 846.00 – 1,046.95 USD.
The Nikon 1 S2 is available in Black, Red, White and Yellow with the 11-27.5mm kit lens for 445.95 USD at Adorama.
The Nikon WP-N3 waterproof underwater housing for scuba diving with the Nikon 1 J4 or Nikon 1 S2 retails at 646.95 USD.
The Nikon SB-N10 Underwater Speedlight for Nikon WP-N1, WP-N2, WP-N3 Waterproof Housings retails at 746.95 USD.
Orders are shipped on a first-come, first-served basis. Credit cards will not be charged until orders are fulfilled.
ADORAMA: More Than a Camera Store
Adorama is more than a camera store – it's one of the world's largest photography, video, imaging and electronics retailers. Serving customers for more than 35 years, Adorama has grown from its flagship NYC store to include the leading online destination for photography, video and consumer electronics. Adorama's vast product offerings encompass home entertainment, mobile computing, and professional video and audio, while its services include an in-house photo lab, AdoramaPix, pro equipment rental at Adorama Rental Company, and the award-winning Adorama Learning Center, which offers free education for photographers in online channels such as the popular Adorama TV.
Adorama is listed as one of the top five electronics retailers by Consumer Reports, "Best of the Web" by Forbes.com, Internet Retailers Top 100, and is the official Electronics Retailer of the NY Giants.