The Commemorative Air Force's (CAF) iconic B-29 Superfortress, FIFI, the only flying B-29 in the world, returned from her Florida tour on Monday to join the B-24, Diamond Lil, at their temporary new home in Fort Worth, Texas.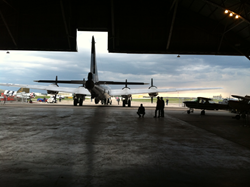 The airplane arrived at the Vintage Flying Museum (VFM) at 7:30 p.m. accompanied by the famous C-45 Expeditor, Bucket of Bolts, also making Meacham International Airport its new home. The airplanes will remain there for at least a couple of years until the new CAF National Air Base location is determined and hangar space to accommodate the airplanes becomes available.
"It's an amazing opportunity to host this historic aircraft," said Charlyn "Chuckie" Hospers, Director of the Vintage Flying Museum. "Our hangar was originally built to house B-29 bombers, so we think FIFI will feel right at home. The B-29/B-24 Squadron have been wonderful to work with, and we're excited to host them and their incredible collection of aircraft at our museum."
FIFI is not a stranger to the well-known yellow Vintage Flying Museum hangar, having spent some time at the museum in 2011. The VFM hangar was originally built to accommodate B-29 bombers in San Antonio. It was later disassembled and reconstructed at Meacham. The hangar was purchased by Chuckie and her husband, the late William "Doc" Hospers, in 1990 and started the museum. For many years it was the home of the B-17G Flying Fortress, Chuckie, purchased by the couple in 1977. The museum is now home to over a dozen vintage military aircraft owned by them or on loan from private owners and other warbird groups. The museum is located at 505 NW 38 Street, #33S, Fort Worth on the south side of the airport.
"Chuckie and her crew have really rolled out the red carpet for FIFI, Diamond Lil and Bucket of Bolts, working hard to create space in their hangar," said Neils Agather, CAF B-29/B-24 Squadron Leader. "It takes a lot of work to keep these aircraft flying and the Vintage Flying Museum, often described as a hobby shop for warbird enthusiasts, is an ideal place to make that happen."
The Boeing B-29 Superfortress, first flown in 1942, began active service in 1944 and is perhaps best known as the aircraft whose missions over Japan helped bring about the end of World War II. It was designed as a replacement for the older B-17s and B-24s, with longer range and greater bomb loads. The B-29 was also used in the Korean War in the early 1950s and was a staple of the U.S. Air Force until the late 1950s.
FIFI was acquired by the CAF in the early 1970s when a group of CAF members found her at the U.S. Navy Proving Ground at China Lake, California where she was being used as a missile target. The airplane was rescued and restored and flew for over thirty years until 2006 when the chief pilot made the decision to ground her pending a complete power plant re-fit. What followed was an extensive four year restoration that included replacing all four engines with new custom built hybrid engines. FIFI returned to the sky in 2010 and since that time has traveled coast to coast attracting large crowds at every tour stop.
FIFI, along with Diamond Lil and Bucket of Bolts, will be available for viewing at the Vintage Flying Museum while not on tour. Please check out their tour schedules at http://www.airpowersquadron.org or call the museum at 817-624-1935 before visiting.