P Hotels, Argentina's leading boutique hotelier, today announced the grand opening of the newest addition to its luxury boutique hotel collection.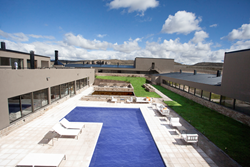 Auberge Du Vin is a brand new modern property in Argentina's most famous wine country, the Uco Valley. The hotel is located within the Tupungato Winelands, a gated community dedicated to wine, golf, and polo. This five-star hotel also features a world-class restaurant, EPIC.
Ensconced within a private 2.8 hectare vineyard, the Auberge Du Vin hotel and its elegant 29 suites are located at the foot of the Andes mountain range, in the world famous Uco Valley. All of the suites include flat-screen televisions, complimentary Wi-Fi, spacious bathrooms, in-room safes, and kitchenettes for comfort. Guests can have their kitchenettes fully provisioned with groceries and beverages prior to arrival and they will appreciate the individual climate control they'll find within their rooms. The luxury boutique property also offers a business center, an indoor/outdoor swimming pool, gym, and a kids club. Golfers have access to the Tupungato Wine & Country Club's 18-hole championship course at preferred rates and also to its polo club, both considered to be the best in the region.
The Uco Valley, the "Napa of South America", is home to some of the regions finest grapes and vineyards. The hotel can organize transportation to and from the airport in Mendoza, as well as to the surrounding tourist attractions and vineyards. Superb fishing, biking, hiking, white-water rafting and many other diversions are also close by. Prior, during and after a day full of recreation and wine tastings, the Auberge Du Vin guests are treated to culinary delights at its five-star restaurant EPIC.
Although each P Hotel is noted for their superb locations and intimate ambiance, the properties are most often praised for the friendly, highly personalized service provided by the knowledgeable staff members. Prior to becoming a hotel developer and operator, Grupo EMR CEO Edward Rubio traveled the world as a financial services executive. "Of all the countries I visited during my career in the financial sector, Argentina clearly offers the best combination of natural beauty, friendly people, diverse adventure, and exceptional value."
Now with properties open in Buenos Aires, Mendoza, and Bariloche, Rubio predicts many of his guests will want to experience the "Big 3" during one Argentine vacation. "Each location is spectacular and unique and they are all within easy reach of each other," he said. "The P Hotel circuit allows for an incredible Argentine experience."
For those with a larger appetite for the delectable Argentine lifestyle, Rubio has introduced a worry-free, no-hassle way to own real estate in all three locations. He has teamed up with DCP International, which pioneered the luxury residence club concept, to create The Residence Club of Argentina (http://www.ResidenceClubOfArgentina.com). The Club's members have an equity interest in suites within each of the new P Hotels and unlimited use, subject only to use by other members.
One of the most attractive aspects of the unique residence club offering is that the P Hotel staff takes care of all the ownership responsibilities and makes each Argentine vacation seamless, whether the visit incorporates one or all three of the Club locations. Residence Club of Argentina owners are also members of Elite Alliance (http://www.EliteAlliance.com), an exclusive vacation exchange offering travel options at dozens of other luxury residence clubs in world-class destinations across the globe.
Additionally, P Hotels properties are also condo-hotels, meaning that the suites are for sale as whole ownership units. Owners can then use the the unit for personal living, vacation, or put their unit(s) into the rental pool, managed by Grupo EMR affiliate, EMR Management.
"We can say with confidence that our properties offer the perfect balance of luxury and adventure," Rubio said.