Café Cha at the Shangri-La Hotel, Beijing help guests share their blessings with a very special campaign named "Pass on a Blessing".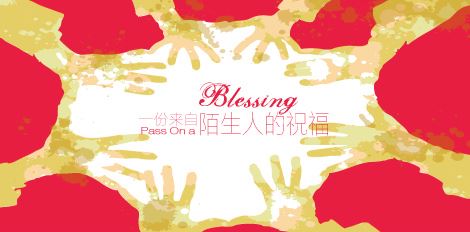 This season of thanksgiving, people can look back and be grateful for the bounties bestowed upon them in the past year.
Guests who enjoy the buffet at Café Cha can start the ball rolling by paying for an extra item on the bill.  They can record this "gift" on the Heart Card and pass on their wishes to the next person.  The card will be pinned on the Blessing Wall at Café Cha.
The next guest who takes this card can enjoy the good wishes and the delicious dish already paid for.  By paying for another culinary delight upon settling their bill, guests then continue the chain of blessings.
The hotel hopes to attract many guests to participate in this meaningful exercise in the season of goodwill and good cheer, and that the blessings will be continually passed on from person to person.
Every guest who donates an extra item on his bill will be rewarded with a signet on the Love Signet Collection Card.  Guests who successfully collect 5 Love Signets will get a Shangri-La Hotel, Beijing Blessings Certificate and be invited to the hotel's celebratory Blessing Cocktail Party in November 2014.
Each guest who passes on a blessing to the next person will also be invited to say a few words that will be recorded a mini-movie and telecast on the hotel's online platforms and social media.
It only takes a little spark to pass on a blessing that will generate much warmth.  Join Café Cha for a truly meaningful end-of-year blessing.