In support of the annual Earth Hour, the global Worldwide Wildlife Fund for Nature (WWF) climate change initiative, Shangri-La's Rasa Sayang Resort & Spa, Penang and Golden Sands Resort by Shangri-La, Penang will organise eco-friendly activities on Saturday, 29 March 2014, between 8:30 and 9:30 p.m.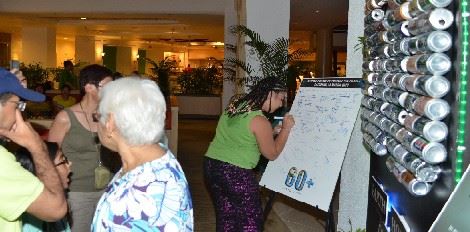 All non-essential lighting in guestroom corridors, selected resort and staff areas, as well as the exterior lighting of both resorts, will be dimmed in a collective effort to show the resorts' support in mitigating global warming. Guests are encouraged to participate by turning off the lights in their rooms.
Additionally, to increase awareness of and participation in Earth Hour, Shangri-La's Rasa Sayang Resort & Spa, Penang will hold an Earth Hour Barbecue with Earth Hour-themed cocktails.
A gamelan performance will be held in the garden to entertain diners during this time. Resort staff will create lanterns made of recycled materials found in the hotel. The recycled lanterns will be displayed in the main pool garden and lit using Light Emitting Diode (LED) bulbs to create a low-emission energy source.
Golden Sands Resort, Penang will hold a "Sustainable Earth Hour under the Stars Barbecue" at Sigi's Bar and Grill. During Earth Hour, the chefs will use the outdoor barbecue to cook and perform carving demonstrations. Earth Hour cookies will also be sold at MYR 10 per bag, with five flavours to choose from. Additionally, guests can stick recyclable cans onto a poster board outlining the number "60" to celebrate Earth Hour.
"Shangri-La's Rasa Sayang Resort & Spa, Penang is committed to conserving the environment for the long term and continues to be sustainable and relevant for the future generations. We are pleased to be recognised as an ASEAN Green Hotel for the fifth consecutive time and as the first hotel property in Penang with its own bottling plant," said Elaine Yue, general manager of Shangri-La's Rasa Sayang Resort & Spa, Penang.
Keith Tomkies, general manager of Golden Sands Resort said, "Both resorts' priority is to ensure that our actions will educate not only staff and guests, but the local community as a whole through environmentally friendly programmes, such as Earth Hour and other green activities, so that we can walk the talk about being eco-friendly."
Shangri-La Hotels and Resorts remains committed to operating in an economically, socially and environmentally responsible manner while balancing the interests of diverse stakeholders.  In striving to be a leader in corporate citizenship and sustainable development, a corporate-level CSR Committee drives the company's initiatives in the strategic areas of stakeholder relations, environment, health and safety, supply chain and employees.  Under the umbrella of sustainability, Shangri-La's social responsibility programme consists of the two elements of "embrace" and "sanctuary".  Embrace focuses on Shangri-La's Caring People Project, which aims to promote the highest level of education and health support in underprivileged communities.  In sanctuary, the programme concentrates on Shangri-La's Care for Nature Project, which promotes the conservation and restoration of biodiversity.  For more information, please access the CSR section on 
www.shangri-la.com
.