Foodies can look forward to the new culinary offerings at Spice Market Café with the "6 in 1 + P60" promotion beginning Sunday, 16 February 2014.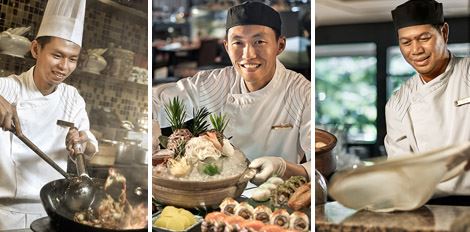 The chefs at Spice Market Café have some culinary magic tricks up their sleeves. The new "6 in 1 + P60" formula allows diners to taste six food promotions in one single buffet.
During the promotion, diners can savour special treats and desserts from different cultures, including Japanese, Western, Indian, Chinese and Malay. For example, one buffet may offer a sampling of bona fide Japanese cuisine, savoury Nyonya delights at the Chinese section, ethnic Indian food at the Indian station, Kelantanese delights at the Malay kitchen and an impressive array of desserts.
Spice Market Café's chefs are currently whipping up the dishes. Soon, famous guest chefs will grace the café's theatre-style action station for one day only. For variety, the menu will change every fortnight.
Spice Market Café's International Buffet Dinner is ongoing weekly from Sunday to Thursday and priced at RM 128++ per adult and RM 64++ per child. Guests will pay only 60 per cent of the actual menu price when dining at Spice Market Café on Monday and Tuesday. During this time, they can experience the "6 in 1 + P60" promotion at a value-for-money price.
"There will also be guest chefs and recipes from sister properties featured down the line," said Suleiman Tunku Abdul Rahman, director of communications. "This '6 in 1' promotion is a great way to taste the best of six food promotions in the same buffet for a special price every Monday and Tuesday."
Prices shown do not include the discount. Terms and conditions apply. The offer is not applicable on the eve of public holidays and on public holidays. Prices are subject to a 10 per cent service tax and 6 per cent government tax. For more details, please call (04) 888 8788.
Hong Kong-based Shangri-La Hotels and Resorts currently owns and/or manages more than 80 hotels under the Shangri-La brand with a room inventory of over 34,000. Shangri-La hotels are five-star deluxe properties featuring extensive luxury facilities and services. Shangri-La hotels are located in Australia, Canada, mainland China, Fiji, France, Hong Kong, India, Indonesia, Japan, Malaysia, Maldives, Philippines, Singapore, Sultanate of Oman, Taiwan, Thailand, Turkey and the United Arab Emirates. The group has a substantial development pipeline with upcoming projects in mainland China, India, Mongolia, Myanmar, Philippines, Qatar, Sri Lanka and United Kingdom. For more information and reservations, please contact a travel professional or access the website at 
www.shangri-la.com
.