Shangri-La's Rasa Sayang Resort & Spa, Penang recently unveiled Mr. T, the resort's official mascot. 
Mr. T is a customised turtle mascot with round, friendly eyes and a smiling, upturned mouth. It is made up of different shades of plush green material. He was created in a costume factory in Bangkok, Thailand and delivered to the resort in August 2013.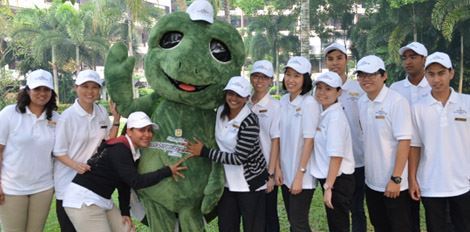 Mr. T is a green turtle known by the scientific name, Chelonia mydas. Mr. T's moniker is short for "teman", which means "friend" in Malay. Standing just over 6 feet tall and weighing about 30 kilograms when not worn, Mr. T is equipped with an internal fan to cool the wearer down. A netting allows the person donning the mascot costume to see. The person wearing the turtle mascot costume has to be at least 162 centimetres (5 feet, 4 inches) tall to look resplendent in the costume.
Mr. T loves clean beaches, friendly people, moonlight and sea breezes. He dislikes plastic bags, styrofoam, floating garbage and noisy environments. When in costume, Mr. T is not allowed to speak. He is allowed to gesture with his hands to express himself.
Mr. T is a gentle reptile aged about 40 years old and weighing 200 kilograms. He is herbivorous, his favourite food being sea grass and algae. When he was a young, growing turtle, he used to eat jellyfish, crabs and sea sponges. In the wild, green turtles can live up to 80 years old, grow to an average height of 5 feet and weigh up to 318 kilograms (700 pounds).
Mr. T's female relatives, his mother and sisters, love habitats with plenty of sand and beach cabbage plants scientifically known as Scaevola taccada. Beach cabbage creates a conducive environment for turtles laying eggs. Turtles always return to the beach where they hatched themselves to lay their eggs. Penang is one of the few remaining turtle nesting sites in Peninsular Malaysia (aside from the states of Malacca and Terengganu). Mr T serves as a reminder for the resort to continue its turtle conservation and education programmes for the local communities.
Shangri-La Hotels and Resorts remains committed to operating in an economically, socially and environmentally responsible manner while balancing the interests of diverse stakeholders.  In striving to be a leader in corporate citizenship and sustainable development, a corporate-level CSR Committee drives the company's initiatives in the strategic areas of stakeholder relations, environment, health and safety, supply chain and employees.  Under the umbrella of sustainability, Shangri-La's social responsibility programme consists of the two elements of "embrace" and "sanctuary".  Embrace focuses on Shangri-La's Caring People Project, which aims to promote the highest level of education and health support in underprivileged communities.  In sanctuary, the programme concentrates on Shangri-La's Care for Nature Project, which promotes the conservation and restoration of biodiversity.  For more information, please access the CSR section on 
www.shangri-la.com
.