The Rhode Island Division of Tourism is celebrating the social media success of their Visit Rhode Island social network pages, which have grown significantly under the management and guidance of Brave River Solutions's social media marketing team.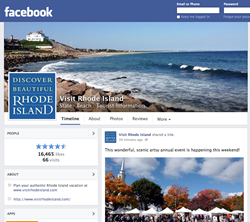 Since January of this year, Brave River Solutions has helped the Visit Rhode Island Facebook, Instagram, Pinterest and Twitter accounts more than double their followers. "With Brave River's help, our social media following has taken off in 2014; we've increased our Facebook followers by 280% since this time last year," said Mark Brodeur, Rhode Island Director of Tourism. "We now have a highly successful presence on Pinterest with over 1500 followers on 34 boards covering everything from different geographical areas of our state to Rhode Island Food & Dining, Historical Places and more. In addition, we are active on Twitter and achieved phenomenal success very quickly on Instagram."
The largest growth in followers was seen on Instagram. The Visit Rhode Island Instagram account, featuring beautiful photographs of the state's landmarks, scenery, dining and sights, has increased their followers by a whopping 376% over the past 10 months. Meanwhile, Pinterest followers have increased 186%, and on Twitter, Visit Rhode Island's follower base has grown by 265% in 2014.
"Social media continues to become an increasingly important marketing tool for our clients," said Brave River's President, Ernie Gaines. "It allows companies to establish relationships with their customer base on a multitude of mediums." Social media services offered by Brave River Solutions include campaign set-up and development, social media training and consulting, post scheduling, and day-to-day management of accounts on platforms ranging from Instagram to LinkedIn.