The Royal Resorts' sea turtle protection team is delighted to announce that 3,773 baby sea turtles have been rescued and released into the ocean so far this year.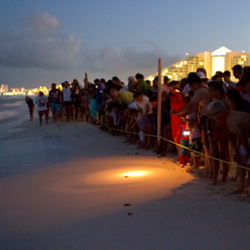 Earlier this summer, adult sea turtles emerged from the ocean to lay eggs on the sunny beaches of Cancun, Mexico. So far this year, there have been 193 nests with turtles laying 22,204 eggs on Royal Resorts properties.
Since 1998, Royal Resorts' sea turtle protection program has protected a total of 6,264 nests and released an incredible 522,394 turtles. Each year, hotel guests watch in awe as the turtle protection team releases the baby sea turtles after hatching. This special experience leaves guests with memories that last a lifetime.
Royal Resorts, a pioneer in Mexican tourism and leader in the international vacation ownership industry, is comprised of six resorts across the tourist destinations of Cancun and the Mayan Riviera: The Royal Cancun®, The Royal Caribbean®, The Royal Islander®, The Royal Sands®, The Royal Haciendas® and Grand Residences by Royal Resorts®. Royal Resorts offers beachfront properties featuring spacious fully furnished units with in-suite luxuries and world-class amenities ranging from pools, tennis courts, water sports and other actives that the whole family can enjoy. Many of the properties are located near national reserves, making these resorts ideal for vacationers who want to observe wildlife, and in particular sea turtles.
A total of 1,944 turtles were released from The Royal Caribbean® and The Royal Islander® collectively, 1,279 were released from The Royal Sands® and 92 from Grand Residences®.
"At dusk Royal Resorts guards get ready to release the baby turtles as members and guests look on. I saw my first sea turtle years ago and it is something I never miss. Every summer I'm on the beach watching these tiny creatures scuttle towards the waves and wishing them Godspeed. Their instinct and will to reach the sea is amazing, truly a miracle of life. I feel privileged to witness one of nature's wonders," says Joanna Green, Communication Manager.
These releases can be witnessed at any time during sea turtle season which is from August to November. Guests who want to be a part of this unforgettable experience are urged to travel during this season to visit one of the Royal Resorts' properties and ask guest services on a daily basis if there is going to be a turtle release. September through October is the best time of year to witness the baby turtles being released while missing the larger crowds that the destination attracts during high season.