As a true gay Mecca, San Francisco can sometimes overwhelm visitors with its vast number of activities which appeal to the LGBT Community.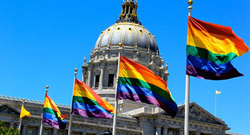 Often referred to as the "First Lady of San Francisco," Donna Sachet's more than 20 years of experience and affiliations with a broad spectrum of the LGBT community will guide you through the year's highlights. From entertainment to fundraisers, from small events to major galas, and from the Castro to the entire city, Donna is tapped into everything that is happening in San Francisco and she will share the "what, when and where" with you in her quarterly updates.
JULY:
Trannyshack! David Bowie Tribute, July 18: The legendary antics of Heklina's Trannyshack, on stage and off, continue at DNA Lounge, 375 Eleventh St., with this tribute to David Bowie. Performers include special guest Raja plus Fauxnique, Lady Bear, Raya Light, U-Phoria, Sugah Betes and more. Hostess Heklina never disappoints, so be there! (Special note: Due to the recent controversy over use of the word "tranny," Heklina has announced that future Trannyshack events will be referred to as T-Shack.)
AIDSWalk San Francisco, July 20: This is the grand-daddy of them all, signing up walkers and supporters since 1987. This year Project Inform is the lead beneficiary of AIDSWalk, along with 34 co-beneficiaries dedicated to AIDS causes, eligible for Community Partners Program and Community Grants Program. In its history AIDSWalk has raised nearly $82 million. Individuals and teams of all skill levels are invited to register: http://www.aidswalk.net
Up Your Alley Street Fair, July 27: This is an adult celebration, definitely not for the faint of heart, celebrating the Leather, BDSM, and fetish community with stages, demos, merchandise and information booths, 11 a.m. to 6 p.m. on Dorey Alley between Howard and Folsom. Many locals find this event, now called the "dirty little brother" of the September Folsom Street Fair, more authentic and approachable, dating back to the origins of the SOMA leather scene on Dore Alley. Drop a donation at the gates for local charitable causes. The night before, the popular Bay of Pigs dance and fetish party takes place, this year with DJs Dan De Leon and Eddie Martinez at 525 Harrison, 10 p.m. to 4 a.m.
PLAY T-Dance – Black Tea, July 27: The official Up Your Alley Closing Party at Mezzanine, 444 Jessie St., begins at 5 p.m. with DJ Russ Rich, William Brown lighting, VIP Play Pen hosted by Beatbox with Donna Sachet, Sister Roma, BeBe Sweetbriar, and Suzan Revah. The perfect way to finish your decadent weekend.
AUGUST:
Movie Night in Dolores Park, Aug. 2: Before beloved Dolores Park gets completely upended as part of its extensive renovation, join the neighborhood for an outdoor movie experience on the lawn from 5:30 to 9:30 p.m. The film is 1965's "Clueless" with Alicia Silverstone, Stacey Dash, Paul Rudd and Brittany Murphy, set in Beverly Hills and chock full of gay humor. Fresh air and cruising guaranteed. http://www.doloresparkworks.org
Suit Up for Equality, Aug. 14: San Francisco Bay Area HRC invites you to a fashion extravaganza featuring the clothes of Artful Gentleman, maker of made-to-measure suits and more, at 1687 Market St. from 7 to 9 p.m. Chef Janine Falvo of "Top Chef" fame provides edibles, Tito's Handcrafted Vodka serves cocktails and DJ CarolC keeps the music coming. Dress up, but dress for fun while supporting the Human Rights Campaign.http://www.artfulgentleman.com
Help is on the Way XX, Providing Hope, Sustaining Lives, Aug. 24: The Richmond/Ermet AIDS Foundation celebrates 20 years of bringing top entertainment to San Francisco while raising funds for local AIDS charities. At the Palace of Fine Arts with a 7:30 p.m. show and pre- and post-show receptions for VIP ticket holders. Performers include Lucie Arnaz, Jason Brock, Richard Chamberlain, Carole Cook, David Engel, David Friedman, Florence Henderson, Laurence Luckinbill, Meg Mackay, Maureen McGovern, Alex Newell, Jeffrey Scott Parsons, Valerie Pettiford, Jake Simpson, Lisa Vroman and Paula West. Beneficiaries include Abzyme Research Foundation, Aguilas, AIDS Legal Referral Panel, Positive Resource Center. A special award named after founders Barbara Richmond and Peggy Ermet will be presented to Donna Sachet. http://www.reaf.org
SEPTEMBER:
San Francisco Opera opening night performance of "Norma," Sept. 5: Truly the most glamorous night of the San Francisco social season, when only white tie and gowns will do. At the War Memorial Opera House, Vincenzo Bellini's "Norma" will be conducted by Music Director Nicola Luisotti and feature soprano Sondra Advanovsky. Before and after the performance, join one of several parties from the formal Opera Ball across the street in City Hall's Rotunda to the Bravo! Club's reception on the balcony of the Opera House and Gala at Jardiniere restaurant after the performance. http://www.sfopera.com
Folsom Street Fair, Sept. 21: (Typically the last Sunday in September, this street fair alternates now between the third and fourth Sunday to accommodate San Francisco's convention schedule.) With nearly half a million kinky attendees, 13 city blocks of adult indulgences, more than 200 exhibitor booths of lifestyle products, two huge dance areas and a massive stage full of entertainment, it's the largest LGBT street fair in the world! Folsom Street from 8th to 13th streets will be filled with the broad spectrum of South of Market lifestyles, including leather, BDSM, uniforms, fetish and other alternatives from 11 a.m. to 6 p.m. Nakedness is still allowed; clothes checks are available. Venus' Playground offers a dedicated and creative women's space. Voluntary donations at the entrances benefit local charitable causes, last year totaling more than $358,000. On Saturday night, Sept. 20, experience Magnitude, a no-holds-barred dance party on Treasure Island from 9 p.m. to 4 a.m. with DJs Tony Moran and Tom Stephan. Shuttle buses are available from SOMA and Castro.
Horizons Foundation Gala Dinner & Casino Party, Sept. 27: The glamorous Fairmont Hotel hosts this annual gala followed by dancing in the iconic Tonga Room. Awards will be presented to AT&T and Donna Sachet. Horizons is a community foundation dedicated to mobilizing and increasing resources for LGBT organizations, empowering LGBT donors and preserving an endowed fund for community access, in other words, philanthropy at its best.http://www.horizonsfoundation.org
The San Francisco Travel Association is the official tourism marketing organization for the City and County of San Francisco. For information on reservations, activities and more, visit http://www.sanfrancisco.travel or call 415-391-2000. The Visitor Information Center is located at 900 Market St. in Hallidie Plaza, lower level, near the Powell Street cable car turnaround.
American Express® is the official Card partner of the San Francisco Travel Association.
San Francisco International Airport (SFO) offers non-stop flights to more than 34 international cities on 29 international carriers. The Bay Area's largest airport connects non-stop with 78 cities in the U.S. on 15 domestic airlines. SFO is proud to offer upgraded free Wi-Fi with no advertising. For up-to-the-minute departure and arrival information, airport maps and details on shopping, dining, cultural exhibitions, ground transportation and more, visithttp://www.flysfo.com. Follow us on http://www.twitter.com/flysfo and http://www.facebook.com/flysfo.