Shinsen opens in Shenyang
 Shangri-La Hotel, Shenyang recently opened Shinsen, a specialty restaurant that sits atop the hotel.  Inspired by a traditional sea-side fishing village that lends an interesting, relaxed and unique environment to the dining area, Shinsen offers Japanese and Southeast Asian cuisines, including sushi and teppanyaki, and a sake bar.  The restaurant uses the highest quality products, including fresh seafood, and adjusts simple seasoning ingredients on the spot according to guests' preferences.  Shinsen is open from 5 to 11 p.m.  Private lunch may be booked in advance.  For more information or reservations, please call (86 24) 2436 6666.
Laidback Family Days at the Sunday Carnival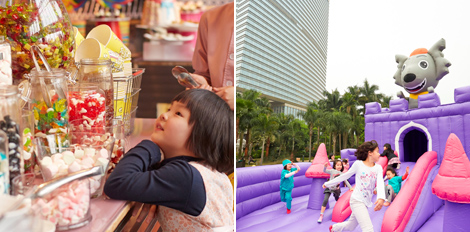 Leveraging its spacious 5,800-square-metre outdoor garden, Shangri-La Hotel, Guangzhou has introduced Carnival at the Park – a series of fun activities for guests.  The newly revamped WOK TOO Café joins the fun with its family-themed lunch buffet to delight children and their parents.  Every Sunday afternoon from noon to 2:30 p.m., the hotel transforms into a wonderland where a broad range of activities for children, including flying panda, mini soccer, bouncing castle, sand castle, slides, fantasy golf and pony rides, helps cultivate the children's interest in the outdoors.  During the Sunday Carnival, the lunch at WOK TOO Café is priced at RMB488 (plus service charge) and includes free-flowing sparkling wine, house wine, soft drinks, juices and beer.  Children below six years old eat for free and six- to 12-year-old children enjoy 50% discount.  For enquiries or reservations, call (86 20) 8917 6498 or email fbreservation.slpg@shangri-la.com.
The PATIO at Kerry Hotel, Shanghai to Welcome Guests This May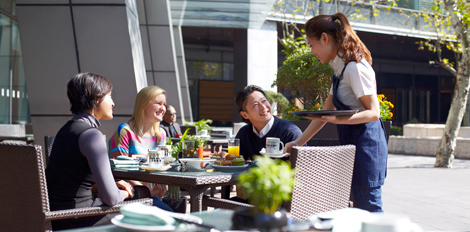 The PATIO, an outdoor bar located in the Kerry Parkside Courtyard in Shanghai, will open on Friday, 2 May 2014.  With cosy elements of a decked out veranda together with signature cocktails and scrumptious treats, The PATIO will provide its award-winning homemade craft beer, and customise three-litre Monster cocktails and freshly squeezed juices.  Offering a series of carefully prepared dim sum, skewers, pasta and burgers, noodles, and vegetarian dishes, The PATIO has something for everyone.  For enquiries or to make a reservation, please call (86 21) 6169 8886, email fbreservations.khpu@thekerryhotels.com or visit www.thecookthemeatthebrew.com.
OFFERS
"Drive Your Way" to Suzhou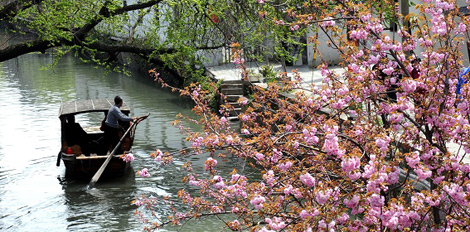 Shangri-La Hotel, Suzhou is offering a special room package for all self-driving travellers.  Valid until 30 September 2014, the room package starts from RMB1,180 for a one-night stay in a Deluxe Room for single and double occupancy.  It includes daily breakfast buffet for a maximum of three people, RMB100 daily dining credit and complimentary parking for the duration of stay.  For reservations or more information, call (86 512) 6808 0168 or e-mail reservations.slsz@shangri-la.com.
Slender West Lake Package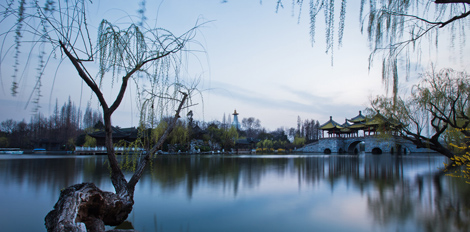 As spring is the best season to visit Yangzhou, a city known since ancient time for its beautiful landscapes, arts and cuisine, Shangri-La Hotel, Yangzhou has introduced a "Slender West Lake" package to invite visitors to savour the essence of the beautiful city.  Priced at RMB1,088 per night for a Deluxe City View Room, the rate includes daily breakfast buffet and two entry tickets to the Slender West Lake.  For enquiries or bookings, call (86 514) 8512 8888 or email reservations.slyz@shangri-la.com.
Qingdao Retreat Package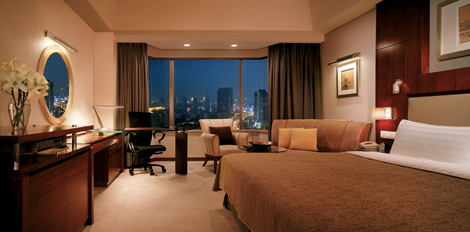 Guests hoping to explore the beaches and European heritage of Qingdao this spring and summer can take advantage of Shangri-La's "Qingdao Retreat Package".  Centrally located near the commercial district, guests can enjoy the highest level of Shangri-La service with this exclusive offer that comes with a complimentary upgrade to a Deluxe Room, daily breakfast buffet and late check-out until 3 p.m.  The package starts from RMB880 per night and is available until 31 August 2014.  For enquiries and reservations, please call (86 532) 8388 3838, email reservations.slq@shangri-la.com or visit www.shangri-la.com.
GOURMET SCENE
The Biggest Wagyu Beef Burger Debuts in Chengdu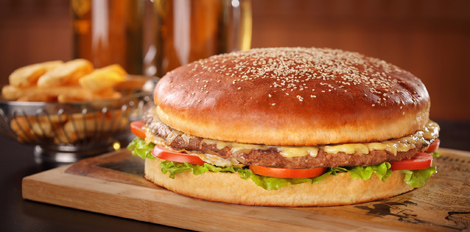 Shangri-La Hotel, Chengdu presents the biggest burger in town: 30 centimetres in diametre, 15 centimetres thick and in the middle – a kilogram of succulent Australian Wagyu beef.  Served with various condiments, such as an egg omelette, bacon, sautéed mushrooms and melted cheese, the Beef Burger is sufficient for four to five people.  Priced at RMB228, guests can order the over-sized signature Wagyu Beef Burger, weighing one-and-a-half kilograms, at the hotel's Mooney's Restaurant & Bar.  For reservations, please call (028) 8888 9999 extension 6896.
Shang Gourmet unveiled in Shenzhen's Futian Business District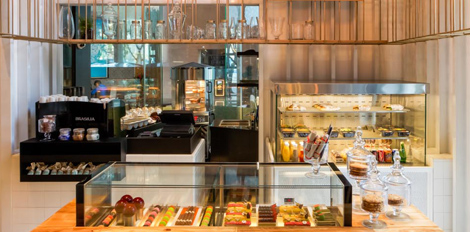 After the successful launch of Shang Garden Bar, the first bar in Shenzhen affiliated with a Chinese restaurant, Futian Shangri-La, Shenzhen recently opened Shang Gourmet, a highly anticipated delicatessen at the lobby of the hotel's service apartments.  Shang Gourmet not only provides freshly brewed coffee, premium tea, homemade baked goods, pastries, classic savouries, sandwiches and salads, but it also features specialties with Oriental and Western influences, as well as dishes made from the best ingredients for both dine in and take out.  The menu, co-created by the hotel's Dutch Executive Chef Joris Rycken and Chinese Pastry Chef Robert Yu, is perfect for private parties and catering options.  For enquiries, contact Restaurant Reservations at (86 755) 2151 3838 or e-mail restaurantreservations.slft@shangri-la.com.
CATERING
All Tailor-Made for You
Whether it is lunch for a corporate product launch, cocktail reception for an outdoor wedding or fashion show gala, China World Hotel, Beijing specialises in catering for functions at any outside venue.  Alongside healthy food selections and creative food presentations, the hotel's banquet team offers different styles of services, including Western buffet, Western sit-down banquet, cocktail receptions, Chinese banquet and family-style Chinese banquet.  For enquiries, please contact the hotel's event management team at (86 10) 6505 2266 extension 6262.
A Vibrant Spring Venue and Themed Breaks Unveiled at KerryHotel, Beijing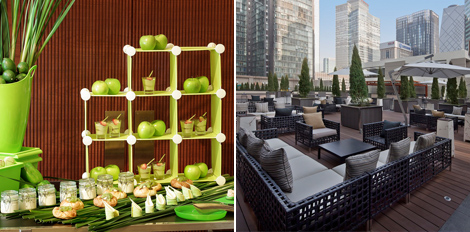 With the blossoming of flowers and the budding of trees in spring, Kerry Hotel, Beijing unveiled its newly renovated Rooftop Garden on Level 4.  Measuring 1,131 square metres, the venue caters up to 300 persons for any type of celebration – be it a birthday, barbecue gathering, proposal, wedding or party.  The hotel has also introduced three vibrant meeting packages that come complete with colour-centric menus and meeting amenities.  Organisers intending to book their next event at the Kowloon Ballroom can email sales.hbkc@thekerryhotels.com.
SHANG PALACE'S SIGNATURE DISH
Eight Treasure Duck at Gui Hua Lou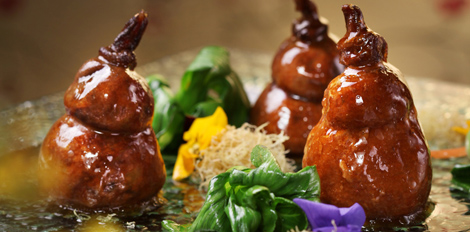 Guests at Gui Hua Lou should never miss ordering The Eight Treasure Duck – a speciality by 44-year-old Chef Gao at the award-winning Chinese restaurant at Pudong Shangri-La, East Shanghai.  The Eight Treasure Duck is one of the restaurant's signature dishes and it earned Chef Gao the title of "Top 50 Best Chinese Chefs" by Food & Wine China magazine in 2012.  A rich filling of abalone, sea cucumber, shrimp, conpoy, duck gizzards, bamboo shoots, mushrooms, pine nuts, lotus seeds and glutinous rice is stuffed into the duck skin and shaped into a gourd.  The inspiration comes from the traditional Shanghainese dish "eight treasure duck", in which a whole duck is filled with home-cooked ingredients.  Chef Gao referenced the eating habits and preferences of modern diners to create a much more delicate version with premium ingredients.
WELL-BEING
Martial Arts in Spa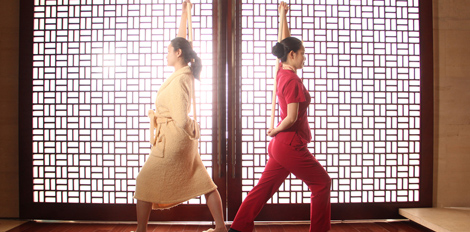 Chinese martial arts are no longer only found in fiction or movies.  The traditional sport has now been incorporated into spa treatments at Shangri-La Hotel, Guangzhou.  Therapists from CHI, The Spa have integrated age-old Chinese philosophy with health balance and Wushu (martial arts) treatments.  The Wushu Stress Relief is inspired by the slow movements of Tai Chi to calm the body, while the Wushu Toxin Release uses a bamboo stick to relax the muscles.  The uniqueness of Wushu treatments lies in the mutual participation of the guest and therapist.  Guests are encouraged to stretch and meditate under the guidance of the therapists to familiarise themselves with the martial arts.  For bookings or more information, please call (86 20) 8917 6658 or email chi.guangzhou@shangri-la.com.
ART AND DECO
Tibetan Blessing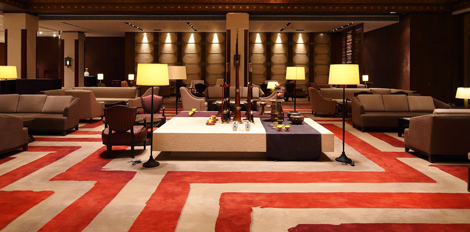 Guests visiting Shangri-La Hotel, Lhasa, scheduled to open on 17 April 2014, will be welcomed by an elegant 6.5-metre bell-like chandelier made from 61,000 pieces of crystal.  With the raised platform below, the bell-shaped chandelier is reminiscent of a prayer wheel.  It is the epicentre of the Lobby Lounge and wrapped in red fabric with bronze details, symbolising Tibetan prayer flags.  The large gold mesh medallions on the wall are in the shape of the number eight, which in Chinese culture signifies fortune and wealth.  The entire lounge is fitted with a red and white carpet and dressed in warm tones and earthy colours drawn from thangkas (Tibetan paintings).  High ceilings and windows surrounding the lounge let in light and fresh air.  Guests can enjoy snacks and beverages inside or on the outdoor patio.
SIGNATURE SERVICE
Pillow Menu and In-room Tailoring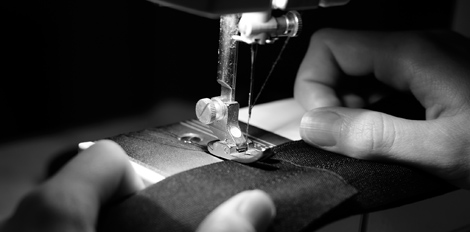 When guests check-in at The Grand Tower of Pudong Shangri-La, East Shanghai, they can be assured of a good night's sleep with a selection of contour, anti-allergic, soft feather, firm feather, buckwheat and traditional Chinese medicine pillows.  They may even have their initials embroidered on the pillowcase (upon request) to bring home the Shangri-La hospitality with them.  In addition, the hotel provides in-room tailoring for business or special occasions that require a suit, shirt, tie or traditional Shanghainese outfit.
PEOPLE
"The Best of the Best" Florist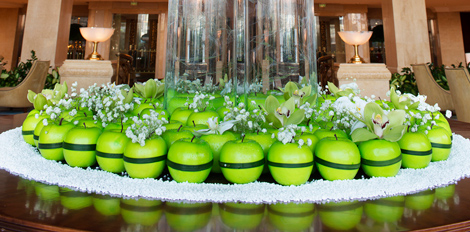 Thomas Li, the head florist of Pudong Shangri-La, East Shanghai, has beaten his peers by winning Shangri-La's 2013-2014 "Best of the Best" Floral Competition. His winning creation, "Refreshing", is based on his belief that a mix of white and green creates a serene atmosphere that helps people relax and enjoy their inner peace. Thomas, who cultivated his interest in flowers from a very young age, joined Pudong Shangri-La, East Shanghai in 2007. He heads an eight-person team and is responsible for all of the hotel's floral decorations. Thomas will, on behalf of Shangri-La, attend the Chelsea Flower Show in London in May 2014.