In July, twelve top sommeliers from Shangri-La hotels worldwide were selected to enter the group's Best Sommelier Competition having cleared the qualifying round and an exciting semi-final. 
Emerging as finalists from both challenges were Jerry Liao from Jing An Shangri-La West, Shanghai; Anne Lomas from Shangri-La Hotel, At The Shard, London; Cédric Maupoint from Shangri-La Hotel, Paris; John MacKinnon from Shangri-La Hotel, Sydney; and Mark Moffatt from Shangri-La Hotel, Toronto.  A panel of judges including Master Judge Gerard Basset OBE, Professor Demei Li and Fongyee Walker judged the competition in accordance with the international standards of sommelier competitions and added new components, such as business and real restaurant scenarios to the measures.  After a heated competition, Cédric Maupoint took top honours and 2014's title of Best Sommelier of Shangri-La Hotels and Resorts!
Summer Palace in the Air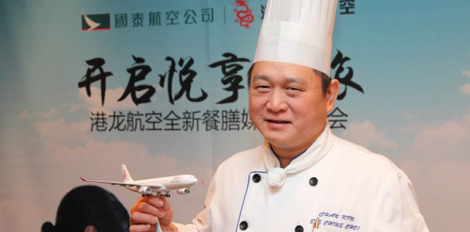 The long-acclaimed Summer Palace Chinese restaurant at the China World Hotel, Beijing announced its collaboration with Dragonair by offering passengers a brand-new Chinese cuisine in-flight menu.  Passengers taking Dragonair flights from Beijing to Hong Kong can enjoy the restaurant's signature dishes designed by Chef Kenny Chan.  The award-winning restaurant is very popular for its combination of classic Cantonese specialities and light, creative Huaiyang cuisine.  The new menu will feature Summer Palace's popular dishes, including Braised Pork Soft Rib with Egg and Dark Soy Sauce, Pan-Seared Cod Fish with Thai Sauce Chicken Sauce, Sautéed Scallop and Prawn with Black Bean Sauce and Deep-Fried Pork Rib Meat with Guiyang Chilli Paste.  Some items on the new menu, featuring more than 20 Chinese dishes with carefully selected ingredients, will not only be offered to first and business class, but also to economy class passengers.
Summer Cool in Shanghai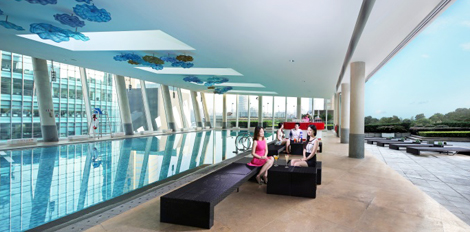 iKandy Ultralounge, at the level 5 terrace of the Grand Tower at Pudong Shangri-La, East Shanghai, is a newly launched poolside venue for daytime indulgence.  Decorated in shades of cute candy pink and beige with day-beds and cabanas, iKandy's 130-seat capacity turns the heat up in Shanghai with chic house cocktails, fruit mocktails, snacks and a resident DJ to keep the energy flowing.  This summer, enjoy poolside pampering by staff dressed in white and make iKandy your go-to-spot!  On Sunday, a cover fee of RMB150 per person applies and includes a glass of Mumm Champagne.
CATERING
A Suzhou Experience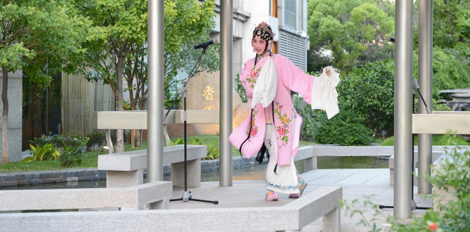 Shangri-La Hotel, Suzhou recently introduced the traditional Chinese opera Kunqu performance, a UNESCO Masterpiece of Oral and Intangible Heritage of Humanity, to event guests at its Shang Garden, a 700-square-metre garden featuring water, rocks, plants and a pavilion. The hotel also provides Gu Su¬-Style coffee break ("a Suzhou dialect singing performance).  Decorated in the traditional square tables, local chinaware and red lanterns, guests may enjoy Suzhou's Bi Luo Chun, one of the top green teas in China, accompanied by local snacks and desserts.  On top of these, the hotel launched night cruises on the Great Canal where dragon boats, attended by the hotel's innovative culinary and service teams, can accommodate up to 50 people for cocktails.  For more information or inquiries, please contact the Event Department at (86 512) 6808 0168 extension 6361 or email event.slsz@shangri-la.com.
OFFERS
A Romantic Staycation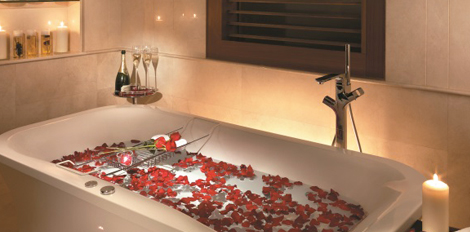 Shangri-La Hotel, Guangzhou rolls out a Romantic Staycation package that includes a one-night stay in an Executive Suite with full access to all Horizon Club benefits and privileges.  Upon arrival, couples will be welcomed with a bottle of sparkling wine and a box of chocolates while a pre-booked romantic dinner awaits at either coolThai, il Forno or Nadaman.  In addition, guests will be treated to the hotel's signature CHI Balance treatment at CHI, The Spa to round up the staycation, which is priced at only RMB2,800 per room per night.  Available until 31 December 2014, please emailreservations.slpg@shangri-la.com or call (86 20) 8917 8088 for bookings or enquiries. Price is subject to a 15% charge.
Holiday in Style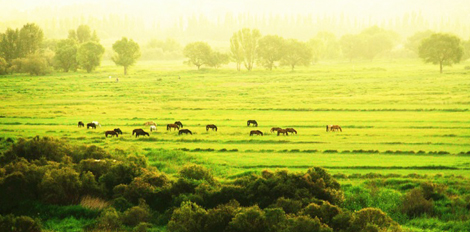 This summer, Shangri-La Hotel, Baotou offers a "Holiday in Style" package with daily rates starting at RMB999.  Available until 31 August 2014, the package includes a range of practical benefits, such as daily international breakfast buffet, US$50 food and beverage credit per stay, per room and complimentary car parking.  The hotel can also customise special Mongolian cultural trips for guests interested in exploring the essence of the destination and will include visits to Wudang Lamasery, Genghis Khan's Mausoleum and Sing Sand Ravine.  For more information or reservations, please contact the hotel's travel specialist at (86 472) 599 8886 or visit www.shangri-la.com.
Journey to Sacred Mount Putuo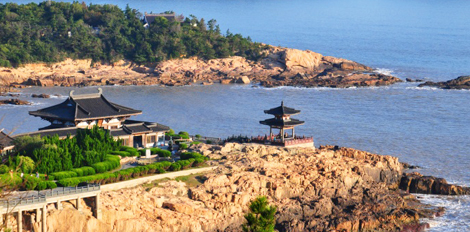 Shangri-La Hotel, Ningbo has designed a package for travellers to visit Mount Putuo, one of the four sacred Buddhist Mountains in China. The "Journey to Mount Putuo" package starts at RMB1,169 per night in a Deluxe River View Room, with 20% off the package rate on the second night.  Other benefits include one same-day round trip transportation between the hotel and Putuo Wugongzhi Port; daily breakfast buffet for two persons; and 30% off at CHI, The Spa.  Shangri-La's Golden Circle members can also enjoy the package rate with a redemption of 6,500 Golden Circle Points.  For reservations, please call (86 574) 8799 8808 or e-mail: reservations.slnb@shangri-la.com.
Discover Confucius in Culture and Culinary Offers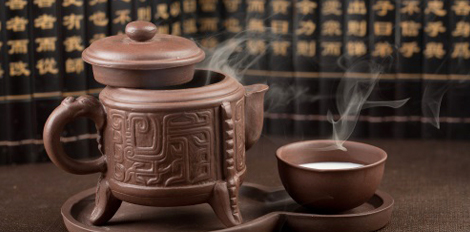 Shangri-La Hotel, Qufu celebrates its first anniversary by introducing a room package to experience legendary Chinese philosopher Confucius' birthplace through unique cultural and culinary offerings.  The packages, starting at RMB918 for one person or RMB1,178 for two persons staying in a Deluxe Room and RMB1,018 for one person or RMB1,278 for two persons staying in a Deluxe River View Room, include the following benefits:
– One-night stay with daily breakfast buffet
– Legendary Kong Family Cuisine dinner at Shang Palace
– Ticket(s) to Confucius Research Institute
– 20 per cent off laundry services
– 20 per cent off in-room mini-bar beverages and snacks
– Double points for Golden Circle members
– Confucius Talk Show at the hotel's function room (prior reservation is required upon arrival at the hotel)
Opened in August 2013 and the only international luxury hotel in Qufu, Shangri-La Hotel, Qufu sits in the heart of the city centre and within walking distance to the Confucius Temple and Confucius Mansion.  The high-speed train station connecting Beijing and Shanghai is only a 15-minute drive away.  The hotel's design concept is based on Confucius' Six Arts, offering a tranquil, balanced and inviting atmosphere where guests can get closer to where Confucius was born and lived.
For reservations please call (86 537) 505 8866 or visit http://www.shangri-la.com/cn/qufu/shangrila/offers/section/rooms-suites/.
GOURMET SCENE
An English High Tea Experience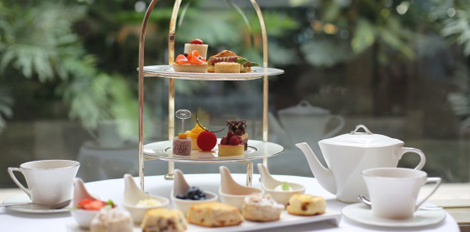 In partnership with Shangri-La Hotel, At The Shard, London, Aston Martin and She's, Futian Shangri-La, Shenzhen presents English High Tea and hat try-on at its Lobby Lounge.  In keeping with afternoon tea tradition, ladies are required to wear hats and those who don't have one can try on the hats provided by She's at the hotel lobby.  Guests are encouraged to take photos with their hats on in front of the Aston Martin car and to share their pictures on WeChat Moments.  They can also submit their photos to the hotel's WeChat to join the "Beauty of Magic Hats Competition".  Participants will have the chance to win two nights' stay at Shangri-La Hotel, At The Shard, London, an Aston Martin Car Model or She's hats.  Pastry Chef's afternoon tea comprises a selection of dainty sandwiches, freshly baked scones served with cream and fruit jam, cakes and desserts.  Freshly brewed coffee or black tea is served with the tea set, available from 2 to 5:30 p.m. until 31 August 2014, and is priced at RMB108 from Monday to Friday and RMB138 from Saturday to Sunday.  Prices are subject to a 15% service charge.
A Culinary Journey at Nadaman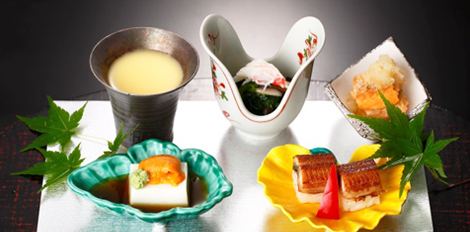 At Nadaman, Pudong Shangri-La, East Shanghai's Japanese restaurant, Saito Masami – the new Japanese chef has thoughtfully prepared an eight-course tasting menu inviting diners to embark on a rich journey of fine Japanese dining.  Starting with five delicate appetisers presented on exquisite chinaware, including Chilled Corn Soup, Grilled Salmon Belly with Vinegar, the second course of clear Bonito soup and Sea Bream Dumpling with Noodles follows.  Assorted Fresh Sashimi from Nagasaki is served as tukuri, the third course, with a nimono of Simmered Lobster with Scallop and Eggplant cooked in Hot Pot. Snow Crab Meat and Tomato Salad with Nadaman's special dressing is served as tomezakana to refresh the palate and prepare diners for the syokuji of Sukiyaki Wagyu Beef served steamed rice, miso soup and pickles.  The Japanese feast concludes with Chef Saito's Sesame Mousse with ice cream and fruits.  To experience the tasting menu, priced at RMB680 plus 15% service charge per person, please contact food and beverage reservations at (86 21) 6882 8888 extension 6888 or email fbreservation.slpu@shangri-la.com.
SHANG PALACE'S SIGNATURE DISH
Exquisite Tea Cuisine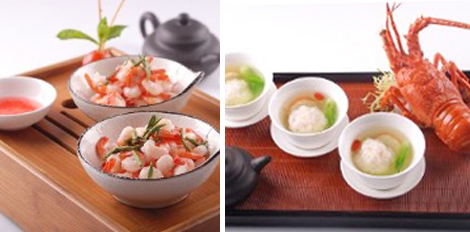 In addition to being a drink, Chinese tea has, since ancient times, been used in traditional Chinese medicine and in Chinese cuisine.  Traditionally, tea cuisine is believed to improve digestion not just by simply mixing tea with food, but by extracting the unique aroma, taste and colour from a specific tea and incorporating in dishes.  At Shangri-La Hotel, Changzhou's Shang Palace, guests can enjoy the health benefits of a five-course tea cuisine menu featuring Stir-Fried Prawn with Longjing Green Tea, Pan-Fried Codfish Fillet with Dahongpao Wulong Black Tea and Crispy Beef Rib with Tieguanyin Green Tea.  For enquiries and reservations, please call (86 519) 6889 8866.
Gingko Poetry Rites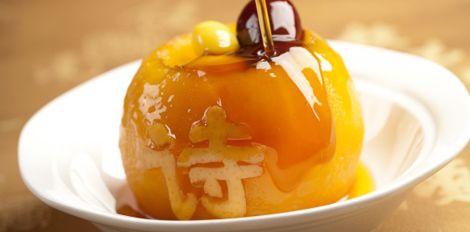 In tribute to Confucius Yan Sheng Master Kong Zhi, the 53rd-generation descendant of Confucius, built the Poetry Hall and planted two ginkgo trees in front.  From there originated the dessert-style dish Gingko Poetry Rites, which is made from steamed snow pears, ginkgo and dates.  As it is very palatable and nutritious, people believe it has many health properties and cleanses the body of toxins and germs.  Now, guests can taste this unique dish and other Confucius Family Cuisine specialities at Shangri-La Hotel, Qufu's Shang Palace.
Legend has it that when Confucius taught his son poetry and virtue, he said, "If you do not study poetry, you have no words to speak; if you do not learn courtesy and virtue, you cannot make yourself stand out as a man of dignity."
KIDS' ZONE
Saturday Workshop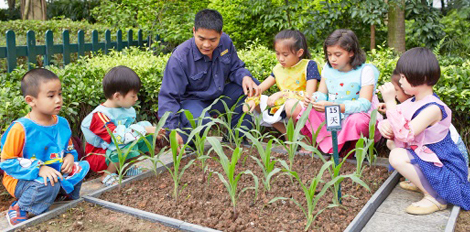 Shangri-La Hotel, Guangzhou recently introduced a Saturday Kids' Workshop featuring five different themes: "Little Bartender", "Little Chef" and "Ladies and Gentlemen".  The hotel's management team lead the workshop and rotate the themes every Saturday. Aside from ensuring each session is fun-filled, the hotel adds educational elements to the activities.  For example, the "Little Gardener" session is conducted at a specially cultivated corn field, within the hotel's 5,800-square-metre lush garden, to enable the children to explore and observe how crops grow at different phases.  In addition to the children's workshops, the hotel offers urban resort activities including a Sunday Carnival at The Park featuring the Flying Fox, mini soccer, bouncing castle, crazy golf and pony rides.  For enquiries or more information, please call (86 20) 8917 6498 or email fbreservation.slpg@shangri-la.com.
ART AND DECO
Sea Dragon Diptych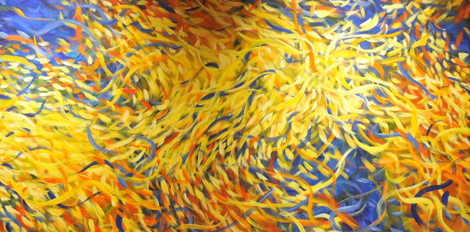 This oil on canvas art piece, measuring 230 cm by 300 cm, is displayed at Pudong Shangri-La, East Shanghai and it was created in 2005 by internationally acclaimed American fine artist Gerrit Greve.  A third-generation Dutch born in Indonesia, Gerrit began drawing extensively under the tutelage of his parents at the age of three and has continued to do so since then.  His artworks are currently in important public and private collections both in the U.S. and abroad, and since 1972, he has had numerous gallery and museum exhibitions, as well as solo museum shows.  Additionally, Gerrit has been the subject of several television documentaries, including the Emmy Award-winning PBS series "Artists in Residence" while his paintings have been featured in many publications, namely TIME Magazine.  Notably, Gerrit's painting, Northwest Territory, is included in the book "1001 Paintings – You Must See before You Die."  Guests visiting the hotel can view Sea Dragon Diptych on level two of the Grand Tower.
PEOPLE
Travel Ambassador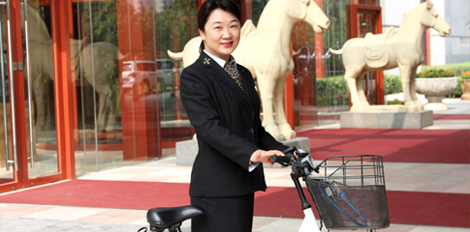 Penny Wang, tour manager of Shangri-La Hotel, Xian, is more famous as a "travel ambassador".  Born in Xian, Penny – just like her fellow residents – is immersed in the historical city that has housed 13 ancient dynasties.  As a travel ambassador, Penny not only accompanies guests to explore the wonderland of China's oldest city, where historical sites date back over 7,000 years, but she also customises itineraries to suit different guest needs providing guided tours for families with kids, the elderly and those with a special interest in history and archaeology.  An English major with 11 years of working experience at Shangri-La, Penny has cultivated her interest in Chinese history and culture, and is considered an expert on the destination.