Shangri-La Hotel, Bangkok has arranged special programmes for diners during Earth Hour from 8:30 to 9:30 p.m. on 29 March 2014.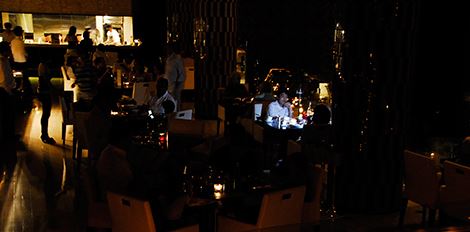 Joining millions of people and business organisations around the world in raising awareness of and taking action against the worldwide global warming issue, Shangri-La Hotel, Bangkok is turning off non-essential lights and other electrical appliances in most heart-of-the-house areas and dimming lights in public areas, restaurants and the hotel's exterior.
In addition, diners visiting Angelini will experience a special three-course "Earth Hour Dinner", a dine-in-the-dark themed evening for the environment. The set menu prepared by Italian Chef Omar Ugoletti is priced at Bt2,200++ per person and includes a complimentary organic cocktail as a welcome drink. The combination of Chef Omar's cooking experience and interesting local ingredients used to prepare all the dishes will make for a special tasty and healthy dinner menu.
Angelini's Three-Course Earth Hour Dinner Menu features:
Tonno con Panzanella e Verdure di Stagione (Roasted Tuna with "Panzanella", Organic Seasonal Vegetables and Citrus Thyme Vinaigrette)
Guancia di Manzo Brasata, Con Mousse di Cavolfiori and Bouquet Insalatina di Campo (Braised Beef Cheek with Cauliflower Mousse and Bouquet Seasonal Field Salad) or Baccala in Crosta di Pane Aromatizzato, Pomodori Canditi su Brodetto di Vongole allo Zafferano (Pan-Fried Salted Cod Fish in Tomato Comfit Clams Saffron Sauce)
Cupola al Cioccolato con Cuore Liquido al Frutto Della Passione e Salsa al Rum (Chocolate Dome with Liquid Passion Fruit's Heart and Rum Sauce).
Guests who dine at Salathip can also enjoy a special Northern Thai style Candle-light dance performance, while NEXT2 guests can indulge in Organic Cocktails during the Happy Hour at NEXT2 Upper Deck between 8:30 to 9:30 p.m.
During the Hour of darkness, guests can listen to acoustic music performed by talented vocalists at NEXT2 upper deck, Angelini and Lobby Lounge.
For more information and to make a reservation, please call Shangri-La Hotel, Bangkok's restaurant reservations desk on 02 236 9952, 02 236 7777, e-mailrestaurants.slbk@shangri-la.com or visit www.BangkokRiversideDining.com.