Conveniently located in Silom area by the River of Kings with a local Mosque next door, Shangri-La Hotel, Bangkok offers a Middle Eastern experience by providing non-pork and Arabic cuisine for Middle East travellers at a relaxed ambience of NEXT2 Cafe.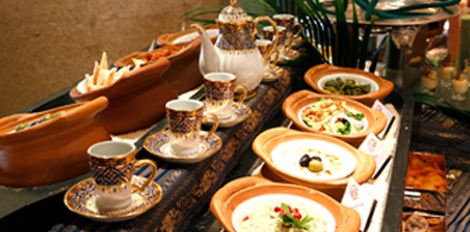 The non-pork and Arabic dishes are available at the all-day dining restaurant, NEXT2 Cafe, where Middle Eastern guests can take part in a gourmet journey that moves beyond different live cooking stations. A range of beef, lamb, seafood and chicken dishes using Halal certified products includes Grilled Lamb Chops with Polenta, Roasted Baby Chicken on Ratatouille, Seafood Ciopinnio, Roasted Lamb with Oven Roasted Vegetables, Jambalaya Rice and many more delicious dishes. In the evening, guests can find balance with healthy and flavourful dishes from the Middle Eastern station, which offers cold and hot items, such as Hoummous, Babbaghannoush, Tabouleh, Shawarma, Cucumber Yoghurt Salad, Cous Cous Salad and Pita Bread.
All non-pork and Arabic dishes are prepared under the supervision of the hotel's Executive Chef Matthew Bennick who always looks into very details of all food production processes to ensure of the quality, taste and hygiene.
In addition to Halal products and Arabic dishes, the hotel can provide VIP amenity, such as Arabic coffee and Middle Eastern fruits, set-up in the room for Middle Eastern guests upon their request. Shisha can also be arranged by the food and beverage team upon request.
Shangri-La Hotel ,Bangkok became the first hotel in Thailand to be awarded HACCP (Hazard Analysis and Critical Control Point System) certification for food and beverage services in September 2006 and was the first hotel in Thailand to acheive ISO14001 certification for its environmental management system in January 2000.