Shangri-La Hotel, Baotou presents the "Indulgence in Baotou" room package.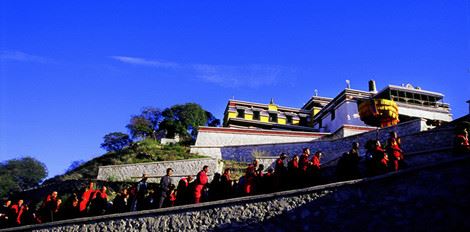 With rates starting at Rmb840 per night, the package offers guests relaxed weekends and public holidays in Baotou.  The hotel will also customise special grassland or desert trips according to guest's interests and requirements.
The package includes the following exclusive privileges.
•Daily buffet breakfast at Xin Café for a maximum of two persons
•Accommodation in a Deluxe Room (single/double)
•Welcome amenities for children below 12 years old and welcome fruits
•Unlimited access to the Health Club and swimming pool
•20 percent discount at food and beverage outlets (excluding special promotions and banquet dining)
•20 percent discount on laundry/dry cleaning service, massage treatments and transportation
•Complimentary in-room wired Internet and Wi-Fi access
•Complimentary extra bed for a third person (upon request)
•Complimentary car parking
•Late check-out until 3 p.m.
This offer is available until 31 December 2014.  Rate is subject to a 15 per cent service charge.  Prior booking is required and subject to availability.  The package is only applicable on Fridays, Saturdays, Sundays and public holidays, including 5 to 8 September 2014, 26 September 2014 and 12 October 2014.
Baotou is located in the north of China, the western part of Inner Mongolia Autonomous Region.  It is the largest industrial city in Inner Mongolia.  The name "Baotou" means "place with deer" in Mongolian.  Thus, Baotou is also known as "a city of deer".
Baotou has received such awards as the United Nations Inhabitant Prize, National Civilized City, Prize of National Forest Cities and many other special honours.  Different from other industrial cities, Baotou has 37.3 per cent forestation rate.  The average public forestation area is over 11.2 square metres for each person.  Most of the year, people can see the pure blue sky and white clouds.
Shangri-La Hotel, Baotou is located in the city centre, overlooking the 100,000 square-metre Yinhe Square.  It is only a 15-minute drive to the Saihantala inner-city grassland, the biggest city grassland in China.  The name "Saihantala" means "the beautiful grassland" in Mongolian.  Guests can ride horses, shoot arrows, feed deer and cycle in the grassland.
Wudang Lamasery was built in 1749 during the Qing Dynasty and under the reign of Kangxi.  A one-hour drive from the hotel, the lamasery is renowned as the biggest Tibetan Buddhist temple in Inner Mongolia.  It is one of the most famous four lamaseries in China.  A temple fair is held from 25 July to 1 August of the lunar calendar.  Guests can visit the eight different halls and a little museum.
Sing Sand Ravine is a national AAAAA beautiful desert scenic spot.  It is a one-hour drive from Shangri-La Hotel, Baotou.  Guest can slide down the 110-metre-high, 45-degree sand hill and supposedly hear the sound of car and aircraft engines, a natural and yet inexplicable phenomenon.  Apart from sand sliding, guests can also ride camels and sand-sliding boats, swim in the swimming pool in desert and enjoy Mongolian folk performances.
Genghis Khan's Mausoleum was built in 1954, about an hour-and-a-half drive from Shangri-La Hotel, Baotou.  Most people, however, believe that this mausoleum is not where he was really buried, but rather a gathering place for Mongolians to offer sacrifice.  The mausoleum's main structures are three grand halls shaped like Mongolian yurts.  Over 786 years since the death of Genghis Khan, sacrificial activities have been held on the grassland from one generation to another.  Mongolians conduct various sacrificial activities at Genghis Khan's Mausoleum.  Every 21 March, 15 May, 12 August and 3 October of the lunar calendar are the main times for sacrificial activities.
Shangri-la Hotel, Baotou also presents an Inner Mongolia tour package with Shangri-La Hotel, Huhhot.  The package is a five-day, four-night trip priced at Rmb20,888 plus 15 per cent service charge for two people.  It includes the following benefits.
•One night's accommodation in a Shangri-la Hotel, Huhhot Horizon Deluxe Room, two nights in a Shangri-la Hotel, Baotou Horizon Deluxe Room and one night in a Deluxe Mongolian Yurt, including breakfast
•Hotel limousine transfer to Huhhot Baita International Airport
•Round-trip chauffeured hotel limousine to two of the following destinations:  Cashmere Market / Muslim Cultural Street / Antique Market / Dazhao Temple or Zhaojun Tomb (Day 1)
•International buffet dinner at Shangri-la Hotel, Huhhot's Xin Café and two signature cocktails at Lobby Lounge on Day 1
•Set lunch at the front row reserved VIP table on Day 2
•Set dinner in the yurt VIP dining room prepared by Shangri-La's culinary team on Day 2
•Two pre-set take-out lunch boxes prepared by Shangri-La Hotel, Baotou to take along for the journey on Days 3 and 4
•Traditional Chinese dinner at Shang Palace, Shangri-La Hotel, Baotou on Day 3
•International buffet dinner at Shangri-La Hotel, Baotou's Xin Café on Day 4
•Visits to Xiangshawan, Xilamuren Grassland and Genghis Khan's Mausoleum, desert outdoor activities, Mongolian outdoor activities and an evening campfire gathering
The Grassland Experience packages are valid from 15 June to 15 September 2014 for two people sharing one room.  It includes all accommodations, meals, transportation and admission fees.  Reservations are subject to room availability.
Hong Kong-based Shangri-La Hotels and Resorts currently owns and/or manages more than 80 hotels under the Shangri-La brand with a room inventory of over 34,000. Shangri-La hotels are five-star deluxe properties featuring extensive luxury facilities and services. Shangri-La hotels are located in Australia, Canada, mainland China, Fiji, France, Hong Kong, India, Indonesia, Japan, Malaysia, Maldives, Mauritius, Myanmar, Philippines, Singapore, Sultanate of Oman, Taiwan, Thailand, Turkey, the United Arab Emirates and the United Kingdom. The group has a substantial development pipeline with upcoming projects in mainland China, India, Mongolia, Myanmar, Philippines, Qatar, Sri Lanka and the United Arab Emirates. For more information and reservations, please contact a travel professional or access the website at 
www.shangri-la.com
.