Shangri-La Hotel, Ningbo has unveiled a newly revamped buffet restaurant, Yi Cafe, to member of the media and guests.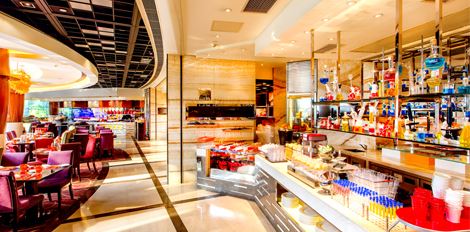 Its new design is by Mr Fabrice Canelle, described by international magazines as "a unique choreographist". Guests can enjoy a feast on a journey of food and art in a theme of fun, artistic, colourful dining experience all bundled into one.
After 29 April 2014, guests entering Yi Cafe for the first time would think they were in a fashion exhibition. The colourful legs sticking out of the wall beside the escalator give a first impression of the whole new dining concept. Yi Café takes guests on a journey of dining experiences and a little surprise awaits in every corner of the all-day dining restaurant, breaking away from the monotony of a regular buffet restaurant.
The red and white scaffoldings incorporated in the triangle decorations on the ceiling greet guests at the entrance. The simplicity of the triangles in different colours, materials and poses creates a space filled with renovation and vision. The wall of 3D lips behind the hostess dressed in Tiffany blue represents both intellect and sex appeal.
Walking to the dining area, guests will find that this is a restaurant beyond food. The ceiling takes on the popular Tetris game twinkling above, taking guests back to their childhood. At the same time, 'children' descend from the sky with small red backpacks with umbrellas.
This concept presents visual entertainment, together with high-standard food quality, the emotions from the heart of the chefs and the sincere Shangri-La service. Yi Cafe provides a dining experience beyond one's imagination.
"Before I came, Yi Cafe had been the most popular restaurant and people came here for food. Now, I bring the cutting-edge set-up to create a space for you to eat in fashion, discover tastes and get yourself charged with positive energy," Mr Canelle said.
Hong Kong-based Shangri-La Hotels and Resorts currently owns and/or manages more than 80 hotels under the Shangri-La brand with a room inventory of over 34,000. Shangri-La hotels are five-star deluxe properties featuring extensive luxury facilities and services. Shangri-La hotels are located in Australia, Canada, mainland China, Fiji, France, Hong Kong, India, Indonesia, Japan, Malaysia, Maldives, Myanmar, Philippines, Singapore, Sultanate of Oman, Taiwan, Thailand, Turkey, the United Arab Emirates and the United Kingdom. The group has a substantial development pipeline with upcoming projects in mainland China, India, Mongolia, Myanmar, Philippines, Qatar and Sri Lanka. For more information and reservations, please contact a travel professional or access the website at 
www.shangri-la.com
.